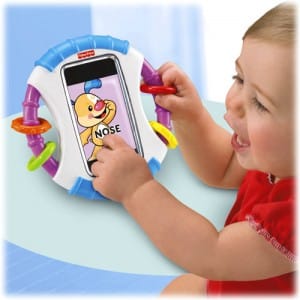 I will admit it.  I am one of those moms who hands her iPhone to her kids when I want to get the rest of my grocery shopping done or when I'm driving while stuck in traffic.
To keep them happy I've pre-loaded some of their favorite TV episodes, puzzle games and a few fun apps. The problem with this, however, is that my iPhone is my life.  So it were to somehow fall unexpectedly I would be very unhappy.  To combat this I put an otterbox around it but this makes it bulky for little hands and a bit of an eyesore for me.
While at Toy Fair in February I had the chance to preview a new gadget Fisher-Price was introducing with and fell in love.  Now that it's available the 'Apptivity Case' is the perfect solution for parents who want to hand their Apple device to their little one.  Compatible with the original iPhone®, iPhone 3G, iPhone 3GS, iPhone 4  and iPod touch® (2nd, 3rd & 4th generation) this durable case is perfect for the tech loving toddler.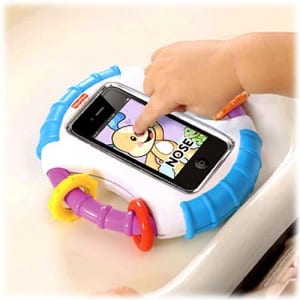 The top and bottom feature a textured rubber that will take the brunt of a  fall and the device is encased in a hard plastic.  Easy to hold, just like a steering wheel, the handles are also textured with busy beads for chewing and playing.  On the back Fisher-Price has added a mirror for your child to admire themself or as I like to call it – to deter them from seeing the lock switch.
When your device is in the case you don't have access to any of the I/O ports and there aren't any speakers so the sound is muted a bit.  This is good because enquiring minds also won't be able to jam anything into you headphone jack or dock connector.  It also has a clear plastic shield that protects the screen from liquids like a drool or a leaky sippy cup. At the bottom the shield is double lined to prevent your child from being able to use the home button and get into your phone or e-mail.
Even though my guys are not babies they still like this case.  The bright colors appeal to them and convenient shape is easy for them to hold.
Fisher-Price has done a great job of designing a product that is easy to use.  It's not a case I keep on my iPhone full-time but I can pop it in quickly and hand it to the my son easily.
For more information please visit Fisher-Price's site.
---
Related Articles:
"Disclosure: I'm part of the Fisher-Price Play Panel and I receive special perks as part of my affiliation with this group. The opinions on this blog are my own."
---