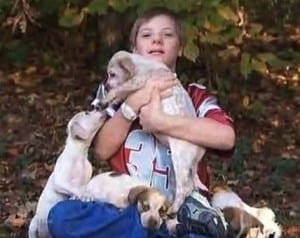 Kyle Camp, a 10-year-old boy with Down Syndrome, went missing from his Alabama home on Tuesday afternoon. According to family members, the little boy had been watching television one minute but was gone the next. His disappearance led to a search of his family's 20-acre forest by a crew of 150 people, but nightfall came around and there was still no sign of Kyle.
The next morning, around 9:30 a.m., volunteer Jaime Swinney heard the barking of the family's dog. He then heard the distant yelping of her puppies. He followed the sound and made a miraculous discovery.
"I heard the dogs barking again and followed him down there and started hollering for the puppies, and I hollered for him and he hollered back," Swinney said.
Swinney found Kyle in some brush on the bank of a creek. Half a mile from his house, Kyle was wet, shoeless and huddled up with the family's puppies. They had kept him warm through the night.
"When I found him, I asked if he was alright and he said, 'Yeah.' He said he just wanted to go home," Swinney said.
And home he went. Of course, he did go to the hospital for an exam, but other than some scrapes and bruises, Kyle seemed to be fine.
Authorities believe that Kyle may have followed the puppies as they played along the bank, eventually ending up lost together.
The family, obviously grateful to have their son home, safe, says they are also grateful to their community.
"It was amazing how many people came together to look, because we couldn't have gotten it all on our own," said Kyle's brother, Chris Bailey. "It's just amazing the community is that close to each other."
Related Articles:
---