When a mom-to-be needs to deliver her baby 6 months into her pregnancy the date doesn't come with anything but fear. For Caroline Lefebvre that apprehension was compounded by the fact that her baby was less than a pound.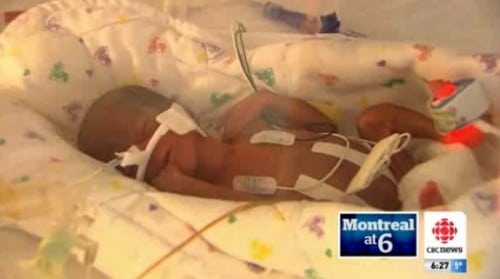 During her pregnancy doctors discovered Caroline was suffering from severe hypertension.  It was also revealed that her baby, who should have weighed almost two pounds, measured less than half of her expected weight.  With both the mother and daughter's lives in danger, doctors decided to deliver the baby at 26-weeks into the pregnancy.
When baby Amélia was born at the Jewish General Hospital in Quebec, she weighed a mere 375 grams.  The smallest baby at the hospital before Amélia was 380 grams.  Advances in technology over the last decade has improved these tiny babies chances of survival.
The first time her dad, Arnaud Renard, set eyes on her he could see she was so full of life.
"I said to myself she really wants to fight. I wasn't worried because I saw she was tough," Arnaud told CTV News
Babies born this small are at risk for many brain hemorrhages, eye problems, respiratory problems and infections.  Ahead of her discharge, Dr. Apostolos Papageorgiou, chief of pediatrics and neonatology at the Jewish General Hospital said "everything is perfectly normal."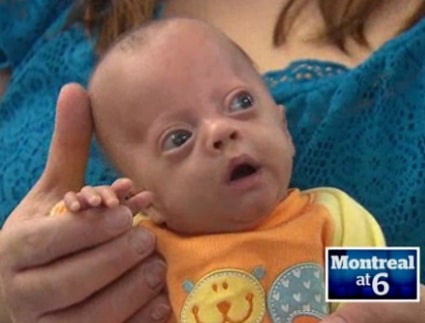 "I am very proud of her. She is my hero. She was very courageous," Lefebvre said.
Now 4.5 pounds, Amélia's parents are finally taking their baby home where a long line of relatives are waiting to meet her for the first time!
Related Articles:
---
[ad]