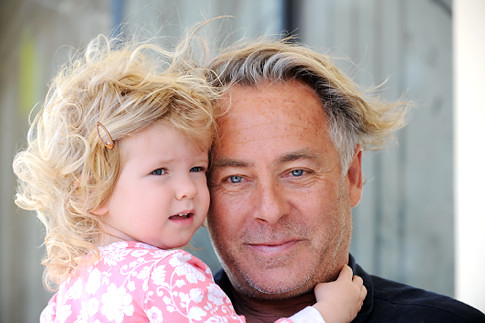 A Brooklyn dad is credited with saving his daughter's life after the toddler fell into the East River while the family was sightseeing.
David Anderson told reporters that had been snapping pictures of Bridget when, he says, 'he took his eyes off her for a few seconds while fiddling with his camera' and she fell 20 feet down into the water.
As shocked onlookers watched, David jumped into the ice cold water and surfaced with his daughter on his chest.
After the toddler was found to be safe, other tourists leaped into action to help get her out of the water. Climbing down the pier to form a human chain, one man was able to take hold of her and pass her up to another man who handed her to her mother, who wrapped her in a jacket.
A bystander's wife had called 911 while her husband documented the scene on tape. He said first responders were on the scene within minutes and the lucky little girl was taken to a local hospital to be checked out. She was uninjured and left with her father a few hours later.
During the mayhem a second man, who has not been identified, jumped in to help David and his daughter. As fast as he appeared, he disappeared after everyone was found to be OK.
A day later, David told the NYDailyNews
"Thank god she's perfectly fine," he said of the precious blond baby. "You would have thought she was in a bathtub. She came out not a scratch, not a mark, nothing."
So Amazing!
---