It won't be long now before Rachel Bilson and Hayden Christensen meet their baby. A very pregnant Rachel was photographed picking up some items at Bed Bath & Beyond in Studio City.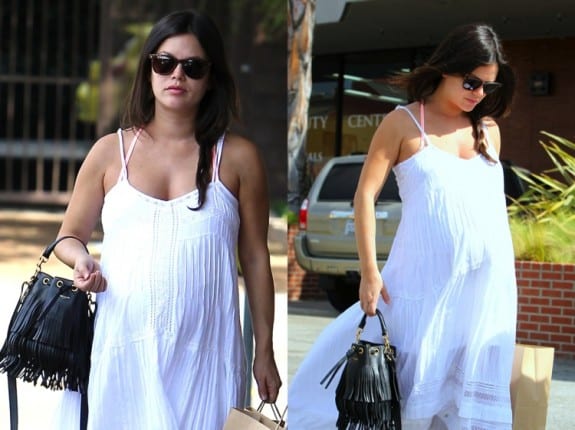 Due very soon, the actress wore a white Cynthia Vincent dress that flowed over her growing belly.
A first time mom, Rachel is getting lots of advice from friends and family. Her Hart of Dixie co-star Jaime King recently told E! News that she has been helping her along the way.
"I tell her everything because she and I are very, very close. Rachel and my son have had a love affair from the very, very beginning since he first met her. Rachel has always been one of the most supportive people in my life in regards to my pregnancy." she told E!.
Adding that she would try to make sure Bilson's conditions at work were comfortable during her pregnancy.
"People forget that she's growing a human being inside. I had to get IV fluids because it was so hot when I was shooting in Burbank, but I never wanted that to happen to her. I was always super, super, super protective of her and her child."
What a great friend!
{INFPHOTO.COM}
---
[ad]