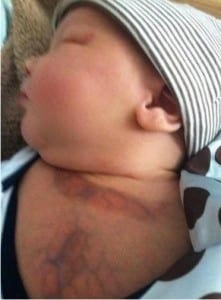 For most mothers, cuddling and hugging their babies is a given. For Jeanna Buswell, the close contact can be painful – not for her, but for her 7-month-old son, Casen.
Casen has a vascular condition, glomuvenous malformations plaque type, that there are only 13 other known cases in the entire world. Caused by a missing glomulin gene, this condition causes his blood vessels, skin and muscles to harden. If left untreated, it could lead to heart failure.
"It's progressive, so once the skin starts to harden and thicken, it becomes extremely painful," said the mother of two from Washington state. "Right now, he is so, so little that we're noticing that to touch there are areas that are so sensitive we have to be careful about where we place him."
At birth, doctors immediately noticed lesions on Casen's chest, but the Buswell's didn't discover what had caused them until visiting a geneticist nine weeks after he was born.
"The geneticist pieced it together and on a whim notified a few other doctors in the U.S….and then, at that point, notified the husband and wife team in Belgium, who identified the gene Casen is missing," Jeanna said.
The Belgium doctors, Dr. Miikka Vikkula and his wife, Dr. Laurence Boon, are the only doctors in the world who have established a treatment for Casen's condition. The location of their practice, Brussels, is 5,000 miles from where the Buswells live. Yet despite the distance, the couple made their first trip this past summer to meet with the wife and husband doctor team.
Monthly laser treatments for up to three years will be needed to keep Casen's blood vessels from hardening. These treatments may very well give him the chance to live a normal, healthy life.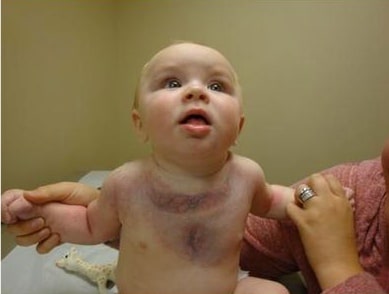 Originally, the Buswell's had hoped to wait until Casen reached 18 months before beginning his treatments. Unfortunately, the little boy's labored breathing, another side effect of his condition, means treatments will need to start sooner. But the family wasn't sure how they were going to afford the monthly commute from their home in Puyallup, Washington to Belgium for Casen's treatments, let alone the cost of treatments, which could cost hundreds of thousands of dollars alone.
"Our doctors in Belgium are the only doctors we've seen who have been able to give us a clearer picture about what we need to do to treat him," Jeanna said. "We're struggling with how we are going to provide that for him."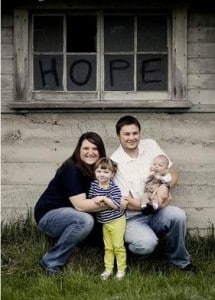 But it seems that the family's cry for help has been heard. Their community has donated thousands of dollars and coordinated fundraisers to help Jeanna and her husband get the much-needed treatment for their son. And a local drag-racing enthusiast, Ron Cook, was touched so deeply by Casen's story that he has decided to sell his prize possession – his 1957 Chevy Bel-Air – and donate every penny received to the Buswells.
"My mom died of lung cancer quite a few years ago, and it reminded me of her and her last days. Real short, fast breaths," Ron said. "She lived a pretty long life. He ain't even started to live yet. And that's why I want to help."
Jeanna, a special education teacher, and her husband, C.J., a contract administrator at a construction company, are deeply touched by the contributions made by those around them. They now plan to move to Belgium, despite the fact that they would have to leave their loving community to eliminate the commuting costs from Washington to Belgium. It's a difficult choice to make since they have no ties to the country, but it is a sacrifice they are willing to make to ensure that Casen receives the treatment he needs.
"It gives us hope we're going to be able to do whatever it is we need to do," Jeanna said. "My hope is he is able to do all the things little boys should do. Run around, ride his bike, play with his sister. And grow up and live a fairly normal life."
Stefanie Putkowski, a registered nurse who works with the National Organization for Rare Disorderes, says it's not uncommon for families to abandon all they know and move thousands of miles away just to ensure that their child receives the treatment they need. In most cases, however, the move is within the country.
"It's remarkable this family is considering moving to Belgium, but it's not at all inconsistent with the types of things we see all the time," Putkowski said. "Once there is a treatment, families will go to any length to obtain treatment for their child."
The Busswell family accepts donations through giveforward.com
Related Articles:
---
[ad]