Seven month old Xiao Wei was born with spina bifida, a condition in which the spinal cord does not close completely. It is a condition that approximately 1,500 U.S. babies are born with (Centers for Disease Control and Prevention). Xiao Wei's condition is even rarer than that.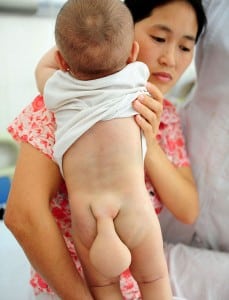 Born with myelomeningocele spina bifida, a very rare type of spina bifida that affects only one in 1,000 babies in Britain, Xiao has a growth that extends 10 centimeters from the base of his spine. The sac, a direct result of his spinal membranes pushing out, it keeps growing, each and every week. And since there's nothing that can be done for him at this time, it will continue to grow until surgeons are able to close his spine.
"We have asked the surgeons to remove [it] but they tell us it is not that simple," Xiao Wei's mother, Chen Wei, from Guangdong in Southern China, told Daily Mail UK.
In all types of spina bifida, including Xiao's, the spinal column (which is the bone that surrounds and protects the nerves) never closes completely during pregnancy. This leaves the spinal nerves susceptible to infections, some of which can be fatal.
Surgery can be done to close the spinal column, but there are often life-long complications, such as paralysis and incontinence. The exact causes of the condition are unknown. However, deficient levels of folic acid during the first weeks of pregnancy is thought to be a factor.
In Xiao's case, the growing sac has been caused by damage to the outer wall of his spinal canal. And until doctors can close his spine, performing surgery would be pointless.
"If we cut it off, it will simply grow again," surgeon Huang Chuanping told Daily Mail UK. "We need to repair the spinal canal first to stop it reoccurring."
Related Articles:
---
[ad]