While pulling a man over for speeding, an RCMP traffic officer noticed something moving in a box in the back seat. Thinking it might just be a puppy or another small animal, the officer was stunned when a little boy popped his head out.
During a routine traffic stop earlier this week, Sgt. Darrin Turnbull questioned the driver about what was moving around in the back seat. Before he could answer a voice from the back said, "I am." And out popped a little hand that started waving.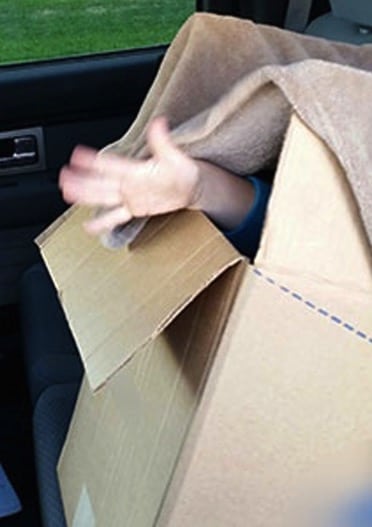 "I was shocked," Sgt. Turnbull recalled, "The driver told me the child had refused to stay in the child seat and wanted to play in the box."
While the identity of the driver, and the age of the child wasn't revealed, the officer was able to coax the child out of the box and back into his car seat.
The dad was fined $167 for speeding and he received a summons to appear in court on a charge of failing to properly secure a child in a motor vehicle.
"According to Alberta law, any child who is under the age of six years and whose weight does not exceed 18 kg (40 lbs) must be properly restrained in a child safety seat according to the manufacturer's instructions. The child safety seat must be installed in the vehicle according to both the vehicle manufacturer's and child safety seat manufacturer's instructions. The fine for not using a child safety seat is $115."
---
[ad]