It's that time of year when you may have more people to buy for than money in your wallet. While out the other night with some friends we got on the subject of re-gifting and it was clear that everyone had very strong opinions on the subject.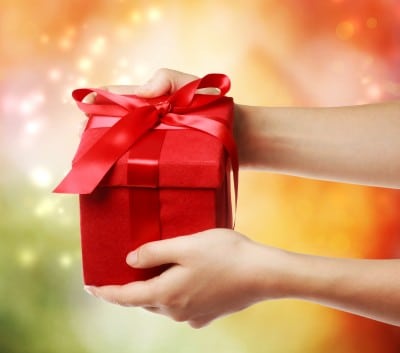 Ninety-nine percent of the time I buy a new gift for a special occasion.  But I do believe that there are a few conditions under which you can re-gift and there have been some occasions when I have been in a bind and have needed to grab from our 'reserve'.
I have listed a few times when gifts you have received can be re-given:
Not age appropriate for your child – A couple times I have received gifts that are too small for my boys or below their skill set.
You have more than one of the same item – I am terrible at returning things so if we get two of something I often put it away as a just in case.
It is something you are allergic to – A friend of mine is allergic to fragrance so she puts the bath and body lotions that she is receives away to be later gifted to someone who can use them.
It was given to you at as a door prize – My husband participates in a million golf tournaments each Summer and always comes home with some interesting prizes. Everything from Fans, shoe polishers and golf bags to poker tables, glassware, utensil sets and coffee makers. These prizes were MADE to be re-gifted!
My girlfriend believes that any gift you are not fond of is 'free game'.  Who am I to judge?  Re-gifting can be done with class, if you follow a few rules.
If you are going to re-give something you should make sure that the package hasn't been opened and that there aren't any gift tags on it.  Also make sure that it is being given to someone completely unrelated to the original gifter and that the item is current and not discontinued or no longer available.  Anything homemade is off limits.
At the end of the day re-gifting should be only used as a last resort and shouldn't be something you do for your main family.  Holidays left overs could also be donated to a local charity if you think they would be useful for someone else outside of your circle.
---
[ad]