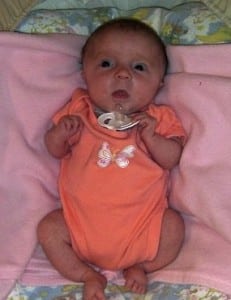 Stevie Simpson was 34 weeks pregnant when doctors first became concerned that there might be an issue. During her initial scan, doctors could see that the baby's arms and legs were shorter than they should be. This caused them to believe, initially, that their little girl suffered from dwarfism.
"Initially, the doctors thought she had dwarfism, which was a shock," Stevie told Daily Mail UK. "I knew that my pregnancy bump wasn't as big as it had been with my first pregnancy, but I had never imagined anything could be seriously wrong."
Because they wanted to get a better look at the baby, doctors referred Stevie to the Liverpool Women's Hospital. Four days later, she received another ultrasound; the results were devastating. From the ultrasound scans, doctors could see that their daughter, Millie, had broken every bone in her body. Some of them had healed, but many of them, including her ribs, back, arms and legs, were still broken.
"We were devastates when we were told what Millie had," Stevie said. "It was such a severe case that she had broken every bone in her body. The scan showed that some of the breaks had healed, and some of them hadn't. And in some of the bones, there were several breaks at a time. It was so upsetting to know that every time she had moved around in my womb, it had caused her bones to break."
Diagnosed with a rare and severe case of brittle bone disease, doctors feared the little girl wouldn't stand a fighting chance at making it through the delivery, let alone life. They suggested that Stevie and Tyler, Stevie's husband, terminate the pregnancy. Already parents to daughter Lottie, Stevie and Tyler declined.
"There was no way that we were going to end our daughter's life like that. We had to give her a chance," Stevie said.
Shortly after, little Millie was born via caesarian section. Amazingly enough, despite her broken ribs, she was able to cry and breathe.
"She let out a cry when she was born, and it was the most amazing thing," Stevie said. "She came out fighting, and we were just so relieved that we had given her that chance to live. There was no way that she was giving up."
Now two-years-old, little Millie is still a fighter. She goes through calcium treatments every few weeks and attends intensive physiotherapy to help strengthen her bones. She's endured breaking her legs and arms several times, and she's broken her jaw. She couldn't sit up until she turned eight months and just rolling over or having someone touch her lightly can break her bones.
"Her bones are extremely fragile and she can't stand up as she can't put her weight on her feet," Stevie said. "It's a daunting task for her but we are hoping that she will be able to walk one day."
And that hope may very well become a reality for the little girl who wasn't supposed to even survive her birth. She's made huge gains that no one ever would have predicted and her parents are overjoyed to have her in their lives.
"Watching her improve each day is so rewarding. She has such a huge personality and we are so proud of her," Stevie said. "She may be a real life china doll but she has such a fighting spirit. She could have given up with all those broken bones in the womb, but she didn't. She's our little miracle."
Related Articles:
---
[ad]