The U.S. Consumer Product Safety Commission, in conjunction with Dream on Me Inc., of South Plainfield, N.J., today announced a voluntary recall about 13,000 2-in-1 Bassinet to Cradles because the wire supports on the sides of the bassinet can disconnect causing the fabric sides to lower; posing a risk that infants can fall out or become entrapped and suffocate.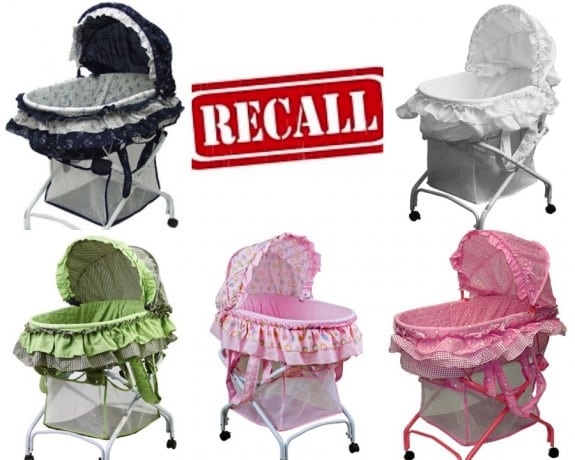 bassinet r
Dream on Me has received one incident of the wire frame support bracket failing and the fabric portion of the bassinet collapsing while an infant was asleep in the cradle. No injuries have been reported.
This recall involves the 2-in-1 Bassinet to Cradle, sold in pink, blue, green, and white. The bassinet has metal frame supports and fabric sides with a removable half-canopy on the top. The frame can also be adjusted with two rocking legs on each end of the bassinet. It is designed with fabric handles and the option to remove the bassinet from the frame to use the bassinet portion as a "by the bed" sleeper product. The recalled model numbers are 439-A, 439-B, 439-G, 439-P and 439-W and can be found on a tag which is located under the mattress pad of the bassinet. This tag is a removable tag you see in the store but is removed prior to use.
Consumers should immediately stop using the product and contact Dream On Me toll-free at (877) 201-4317, from 9 a.m. to 4:30 p.m. ET Monday through Friday, or online at www.dreamonme.com and click on the "Recalls" icon on the home page for more information on how to obtain a free repair. In the meantime, parents are urged to find an alternate, safe sleeping environment for the child, such as a crib that meets current safety standards or play yard depending on the child's age.
---
[ad]