The U.S. Consumer Product Safety Commission in cooperation with Munchkin Inc, today announced a voluntary recall of about 34,000 Bathtub subs because the intake valve on the bottom of the submarine toy can suck up loose skin, posing laceration hazard to children.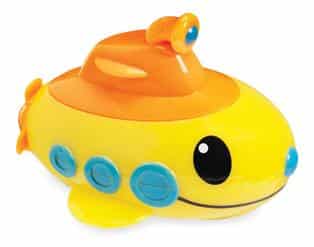 CPSC and the company are aware of 19 incidents of lacerations to boys' genital areas. One of the incidents required medical attention.
This recall involves battery-operated bathtub submarine toys. The toy is yellow, has a smiling face, turquoise windows, an orange propeller and an orange periscope that turns the toy on and off. The intake valve has a water pump that sucks in water to propel the submarine. The toy is intended for use by children during bath time.
Consumers should immediately take the recalled toy away from children and contact Munchkin at (877) 242-3134 anytime or visit the company's website at http://www.munchkin.com/ for instructions on how to return the product for a free replacement toy.
Related Articles: