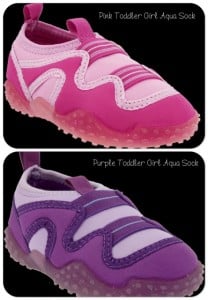 The U.S. Consumer Product Safety Commission and Health Canada, in cooperation with Old Navy, today announced a voluntary recall of about 37,800(34,000 in the U.S. and 3,800 in Canada) Old Navy Toddler Girl Aqua Socks because this style of Aqua Socks have less traction when worn on wet or smooth surfaces such as hardwood or tile, creating a slip and fall hazard.
Two customers reported falls with minor injuries that did not require medical attention.
The slip-on shoes have pull-on tabs on both the front and back of the foot opening of the shoe. These Aqua Socks were sold in pink and purple in Toddler sizes 5-11. The recall includes Old Navy Toddler Girl Aqua Socks with style number 896452. A small tag inside the foot opening contains the style number (896452), size information and country of origin (China).
The recalled shoes were sold at Old Navy stores in the U.S. and Canada and at oldnavy.com in the U.S. and at oldnavy.ca in Canada from February 2012 through June 2012 for between $12 and $15.
Consumers should immediately stop using these shoes and return them to any Old Navy store for a full refund. For additional information, contact Old Navy toll-free at (866) 580-9930 between 9 a.m. and 9 p.m. ET Monday through Friday, Saturday between 12 p.m. and 7 p.m. ET, and Sunday between 12 p.m. and 6 p.m. ET, or email Old Navy at custserv@oldnavy.com if you wish to return the Toddler Girl Aqua Sock by mail. Consumers who return the shoes before November 9, 2012 will also receive a coupon for $10 off their next purchase at Old Navy.
---
---
[ad]