The U.S. Consumer Product Safety Commission, in cooperation with Aqua-Leisure Industries, today announced a voluntary recall of about 4 MILLION Inflatable Baby Floats because the leg straps in the seat of the float can tear, causing children to unexpectedly fall into or under the water, posing a risk of drowning.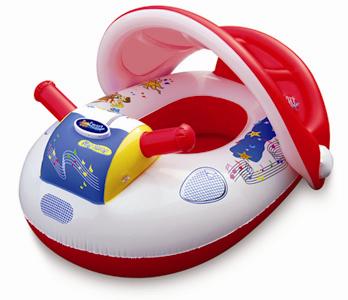 There have been 31 reports of float seats tearing, causing children to fall into or under the water. No injuries have been reported.
The recalled inflatable baby floats were sold in a variety of styles and colors. The names and model numbers are located on the packaging. A date between 08/02 and 07/08 is molded on the valves of recalled products. Products not included in the recall can be identified with the lettering "NP" molded on the valve. The following names and model numbers are included in this recall. Please click on each other pictures for name, model number and description.
Consumers should immediately stop using these recalled inflatable baby floats and contact Aqua-Leisure for a full refund.
Consumer Contact: For additional information, contact Aqua-Leisure toll-free at (866) 807-3998 between 8:30 a.m. and 5:30 p.m. ET Monday through Friday or visit the firm's Web site at www.aqualeisure.com
---