Diono is recalling certain Cambria 2 Booster Seats model numbers 31200-US-01, 31201-US-01, and 31202-US-01. In the event of a crash, a crack between the headrest and backrest can occur, allowing the headrest to separate. As such, these seats fail to comply with the requirements of Federal Motor Vehicle Safety Standard number 213, "Child Restraint Systems."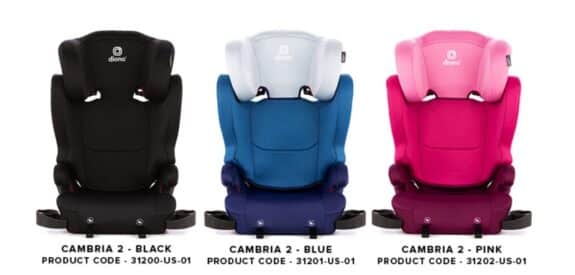 All affected seats will be remedied at no charge to the owner. Diono will ship a replacement backrest/headrest to all owners at Diono's expense. Diono expects that the replacement headrests will be available for shipment by May 9, 2021, but the replacement headrests may be available before that time.
You may continue to use the seat as a backless booster while waiting for the replacement backrest. The affected units meet FMVSS 213 requirements when used as a backless booster.
Injuries Reported: 0
Number of Units Affected: 6920
Dates Produced: September 5, 2020, through November 30, 2020
MRSP: $79.99
Serial Numbers Affected:
648762
648801
648802
648803
64882
648842
648843
648844
648846
648847
64892
648926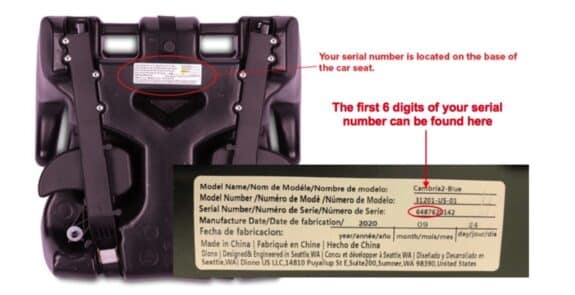 If your Diono Cambria 2 does not have the Serial numbers listed above, it is NOT included in this recall. Other Diono Cambria 2 booster seats do not have the identified issue and fully comply with FMVSS 213.
Please who have one of the seats affected by the recall are being asked to complete the online registration form: https://bit.ly/31ft4cM to receive your free replacement backrest remedy kit or contact Diono at 1-855-463-4666 / www.diono.com/contact-us
Diono is asking parents to NOT return the product to the retailer that the child restraint was purchased from OR contact the retailer.