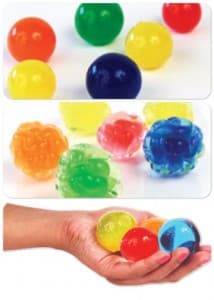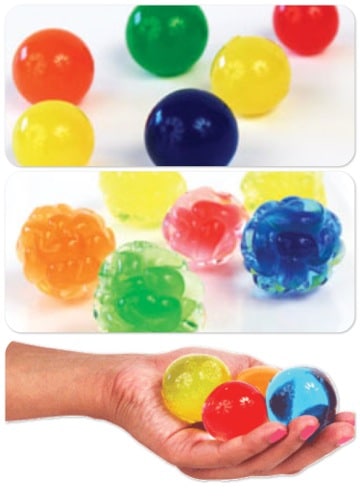 The U.S. Consumer Product Safety Commission and Health Canada, in cooperation with Dunecraft Inc., yesterday announced a voluntary recall of about 94,700 Water Balz, Growing Skulls, H2O Orbs "Despicable Me" and Fabulous Flowers toys. When the marble-sized toy is ingested, it expands inside the body and causes a blockage in the small intestine, resulting in severe discomfort, vomiting, dehydration and could be life threatening. The toys do not show up on an x-ray and require surgery to be removed from the body.
The firm received one report of an 8-month-old girl from Humble, Texas who ingested a Water Balz and suffered an intestinal obstruction in August 2011. The Water Balz had to be surgically removed.
This recall involves marble-sized toys that absorb water and grow up to 400 times their original size. They were sold as Water Balz (round-shape), Growing Skulls (skull-shape), H2O Orbs "Despicable Me" (round-shape) and Fabulous Flowers (flower-shape). They were sold in packages of six in green, yellow, red, blue and black colors. "Dunecraft," the name of the toy and the model number are printed on the toy's packaging.
Name: Model Number (Amount Recalled)
Water Balz: BC-0338 (81,000)
Growing Skulls: BC-0320 (11,850)
H2O Orbs "Despicable Me": DM-0447 (1,800)
Fabulous Flowers: BC-0440 (36)
Remedy: Consumers should immediately take this recalled toy away from children and contact Dunecraft at (800) 306-4168, from 8 a.m. to 5 p.m. ET Monday through Friday, or online at www.dunecraft.com and click on the recall tab for more information for a free replacement toy.
---