The CPSC, along with Bebe au Lait, of Santa Clara, California, has announced the voluntary recall of about 8,600 wooden teethers because the string that connects the beads on the teethers can come untied, releasing the beads and posing a choking hazard to young children.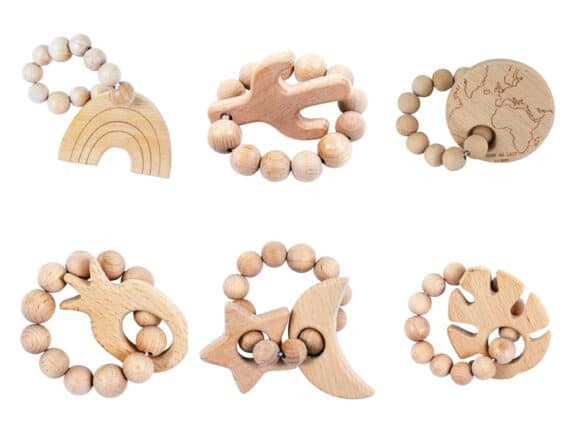 Bebe au Lait has received six reports of detached beads, including one report of a child placing a bead in their mouth.
This recall involves 12 different styles of wooden teethers, including shapes of butterflies, boats, flowers, and dinosaurs. The teethers measure 3" x 3" x 1" and are stamped with "Bebe au Lait" and one of the following date codes: 02-2019, 10-2020, or 03-2021.
Butterfly and Flower Wooden Bebe Teether
Boat Wooden Bebe Teether
Cactus Wooden Bebe Teether
Dinosaur Wooden Bebe Teether
Heart and Flower Wooden Bebe Teether
Moon and Star Wooden Bebe Teether
Owl Wooden Bebe Teether
Rainbow Wooden Bebe Teether
Starfish Wooden Bebe Teether
Tropical leaf Wooden Bebe Teether
Turtle Wooden Bebe Teether
World Wooden Bebe Teether
Consumers should immediately take the recalled teethers away from children and contact Bebe au Lait at 800-270-9398 from 8 a.m. to 5 p.m. PT Monday through Friday, by email at recall@bebeaulait.com, or online at www.bebeaulait.com/recall or www.bebeaulait.com and click on "recall" for more information on how to receive a full refund or store credit. Consumers can also fill out a form for a store credit at www.bebeaulait.com/recall.