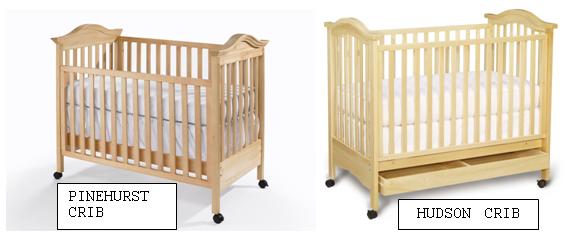 The U.S. Consumer Product Safety Commission, announced a second voluntary recall of about 2,900 Bonavita "Hudson" and Babi Italia "Pinehurst" Drop Side Cribs because the lower spring pins on the footboard and headboard can pop out of the tracks located on the drop side causing the drop side to detach from the crib.
When the drop side detaches, it creates a hazardous gap between the drop side and the crib mattress in which infants and toddlers can become entrapped and suffocate or fall from cribs.
CPSC and LaJobi have received a total of 33 reports of drop side detachment due to spring pin failure. In these reports, two children became entrapped and one child fell from cribs. Both entrapped children were freed by caregivers, one child was bruised.
The recalled cribs are wood with a metal mattress support and have drop sides and were sold in a variety of finishes including cherry, espresso, natural, and white. Hudson and Pinehurst drop side cribs with production dates from December 2006 through August 2007 are included in the recall. The recalled cribs have the production date, product order (PO) number, item number, and color printed on a label attached to the footboard or headboard.
CPSC urges parents and caregivers to immediately stop using the recalled cribs and find an alternative, safe sleeping environment for their baby. LaJobi will provide professional technicians to perform in-home installations of a free retrofit hardware kit. Consumers should contact LaJobi to register for the free retrofit kit service.
Consumer Contact: For additional information, contact Lajobi toll-free at (866) 688-9009 anytime, or visit the firm's Web site at www.Lajobi.com
*Note: This recall does not apply to the LaJobi crib models with straight pins on the headboard and footboard or non drop side cribs.*
---