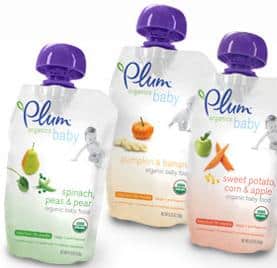 Plum Organics ™ announced today that it is taking the precautionary measure of voluntarily recalling one particular batch of its 4.22 oz. Apple & Carrot Portable Pouch baby food with the best by date May 21, 2010 and marked with the following universal product code (UPC) #890180001221 located on the bottom of the package. These pouches are sold individually at Toys-R-Us and Babies-R-Us locations nationally.
No illnesses have been reported in connection with this product and no other Plum Organics products are affected. As a further precaution, samples from every Plum Organics product manufactured before and after this batch were tested and found to be within quality standards.
The recall was undertaken as a precaution due to the risk of potential contamination with Clostridium botulinum, which can cause botulism, a serious and sometimes life-threatening condition. Consumers should not use these products, even if they appear to be normal, because of the possible health risk. Symptoms of botulism poisoning in humans include general weakness, dizziness, double-vision and trouble with speaking or swallowing. People experiencing these problems should seek immediate medical attention.
"The product did not meet the FDA guidelines for proper acidity level," said Dr. Paul Gerhardt, a Food Science Ph.D. and member of the Plum Organics action team. "Though the risk of illness from this one batch is minimal, Plum Organics is taking the extraordinary step of recalling all Apple & Carrot Baby Food Pouches with best by date May 21, 2010."
"As a mother, the safety and satisfaction of our customers and their children is my highest concern," said Plum Organics Founder Gigi Lee Chang. Due to a mixing error during production, one batch of this product was improperly blended. As a result, it did not meet our company's standard for quality. We are taking the extra step of recalling all Apple & Carrot Portable Pouches with this date to eliminate any question in the minds of consumers about the safety of our products. Plum Organics was founded on the vision of superior quality and nutritious baby food; we are committed to these values and our consumers."
Consumers who have purchased the Plum Organics Apple & Carrot pouch-based baby food with a best by date May 21, 2010 and with the UPC # 890180001221 can return the product for a full refund at any Toys-R-Us or Babies R Us store.
The recall is being undertaken with the knowledge of the U.S. Food & Drug Administration. Consumers with any questions are asked to call 888-974-3555 between the hours of 8 am – 5 pm PST, or email info@plumorganics.com
SOURCE
---