The U.S. Consumer Product Safety Commission and Health Canada, in cooperation with Manhattan Toys has announced a voluntary recall of about 2,800 Pull-A-Long Friends Toucan™, Alligator™, and Sharky™ because the toy has wooden components that can break or come loose, posing a choking/aspiration hazard to young children.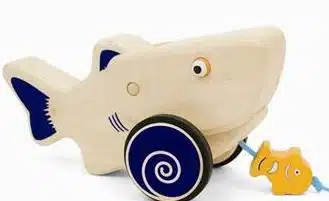 This recall involves three types of pull-toys: Pull-A-Long Friends Toucan™ with lot code 210720GB, Pull-A-Long Friends Alligator™ with lot code 210750GB, and Pull-A-Long Friends Sharky™ with lot code 210530GB. The Toucan has a large yellow and black beak and blue-striped wings. The alligator is green and has a red ridge on its back and red wheels with yellow polka dots.
The shark has blue swirls painted on its wheels and an orange wooden fish on the pull string. The lot code is printed on the bottom of the toy.
Consumers should take the toys away from young children immediately and return them to the store where purchased for a refund or a replacement toy.
For additional information, contact Manhattan Group at (800) 541-1345 between 8 a.m. and 5 p.m. CT Monday through Friday or visit the firm's Web site at www.manhattantoy.com
Related Articles: