This is the third recall of the weekend. Sorry for the overload, we just don't want anyone to get sick!!
The Canadian Food Inspection Agency is warning the public not to consume Wendy's Homestyle Garlic Croutons because the product may be contaminated with salmonella.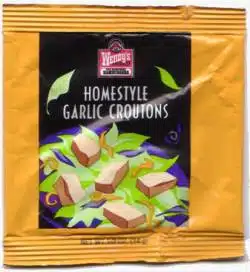 The croutons are sold at Wendy's restaurants in Ontario and Quebec in 14-gram packages.
The affected products bear the UPC number 0-70200-100282 and a best-before date of Feb. 5, 2007.
Wendy's Restaurants of Canada issued a statement from its Oakville, Ont., headquarters, saying it has initiated a voluntary recall of the product.
The food inspection agency said there have been no reported illnesses associated with the consumption of this product.
It said food contaminated with salmonella may not look or smell spoiled, but it can cause symptoms such as high fever, severe headache, vomiting, nausea, abdominal pain and diarrhea.
---