Reese Witherspoon was photographed arriving at church with her hubby Jim Toth and their two boys, Deacon Phillippe and Tennessee Toth in Los Angeles, California on Sunday August 28, 2016.
Tennessee was cute in a full Superman costume as the family headed inside!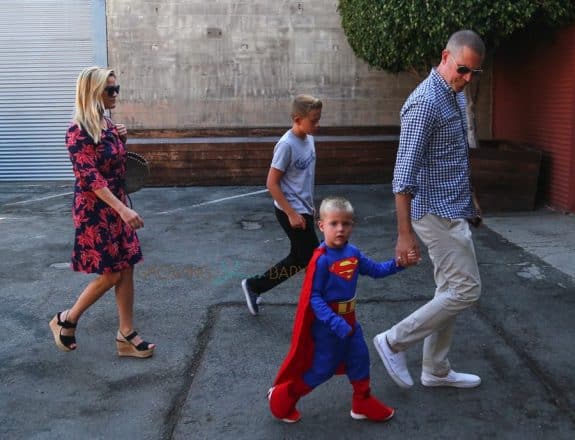 As the family left the church the pre-schooler was all smiles as he walked to the car with his big brother.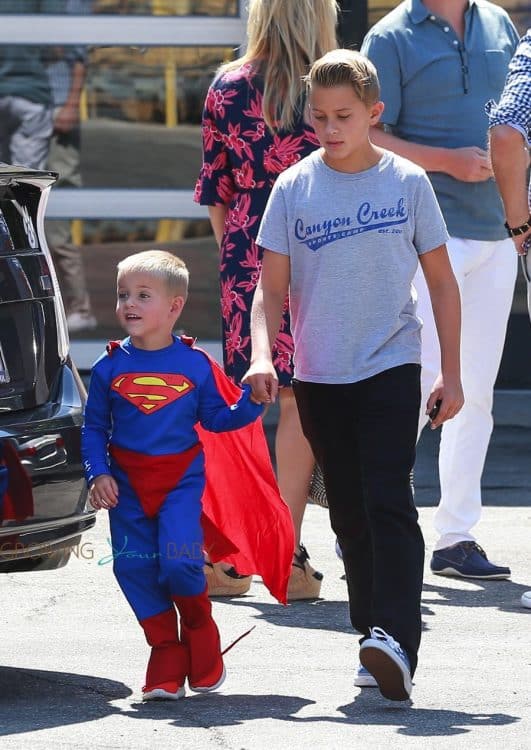 Famous for the part of Elle Woods in Legally Blonde, Reese recently hinted that another sequel may be in the works.
"[Legally Blonde] was really fun," she said in a Facebook live video. "A lot of people have asked me if we're going to make another Legally Blonde, and we're thinking about it."
Last year, Reese told EW: "I think we're ready to see Elle and see what she's up to lately."
Adding,
"A lot of writers over the years have come up with different ideas for it," Witherspoon said. "I actually think it's kind of great right now because we're talking about women in politics and how important that is to get more women. And I think it'd be kind of a cool thing to have her be a Supreme Court justice or someone who runs for office."
Personally I would love to see a Sweet Home Alabama sequel. During her Facebook Live session she said,
"We are not making a [Sweet Home Alabama] sequel that I know of. But if Disney wants to make a sequel, they can just call me: I would happily make Sweet Home Alabama 2."
{FAME/FLYNET}
---
[ad]