A pregnant Reese Witherspoon was beautiful in black as she stood beside her co-stars Jacob Lofland, Jeff Nichols(director), Matthew McConaughey and Tye Sheridan at a photo call for her new film 'Mud' in Cannes, France on Saturday(May 26).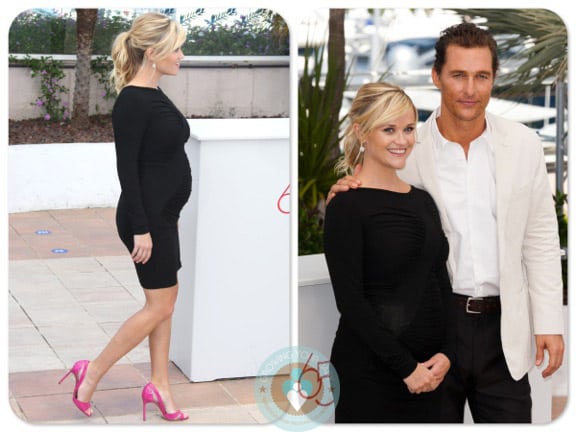 Arriving with her husband Jim a couple days ago, Reese told US Magazine that traveling to Cannes wasn't so bad,
 'The flight over was actually pretty good. I feel great.  I'm excited about showing the movie. The energy here is great.'
Showing off her growing belly in a ruched black dress, Reese gave her look a pop of color with a pair of hot pink pumps.
The film, which echoes Mark Twain and his novel "The Adventures of Huckleberry Finn", is a drama about two teenage boys who encounter a fugitive and decide to help hide him from the bounty hunters looking for him and to reunite him with his true love (Reese).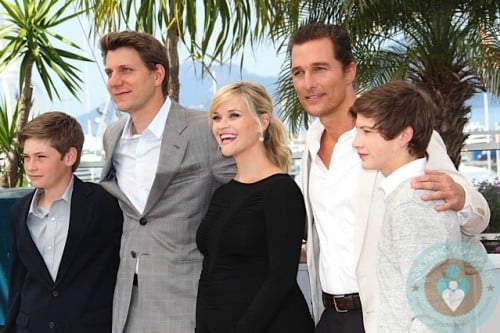 The film's writer and director Jeff Nichols hailed the actress for her small role in the movie.
'I needed Reese Witherspoon. Even if her screen time is limited and, bless her heart, I kept her in a motel room most of the time, she still managed to look good. And you have this man (McConaughey) talking about her the whole time.
A southern girl, Reese immediately connected with the characters and the film's location.
"I grew up with my brother in a creek on a dirt bike riding around, doing motocross, down in the dirt, fishing in Tennessee, so when I read Jeff's script it just felt like home.

"I never get to see home on the big movie screen and Jeff brought such an authentic, beautiful story to the place and it was just very appealing for me.

"There's very few movies about the American South that are accurate, and I feel like this is one of them."
The screening brought the Cannes film festival competition to a close on Saturday.  The Cannes film festival closes on Sunday with a red carpet awards ceremony, where "Mud" and 21 other competition entries are eligible for prizes including the coveted Palme d'Or.
---
{WENN, INFphoto.com, PACIFIC COAST NEWS}
SOURCE
SOURCE
---
[ad]