Reese Witherspoon and her husband Jim Toth joined friends on the beach in Malibu on Thursday to celebrate the 4th of July.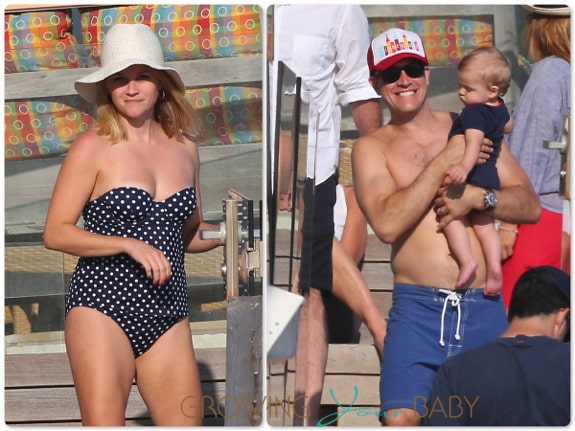 All of her trips to the gym are definitely paying off! Reese Witherspoon looked beautiful in a navy & white polka dot one piece swimsuit as she watched Jim and their son Tennessee stroll around the beach from the patio.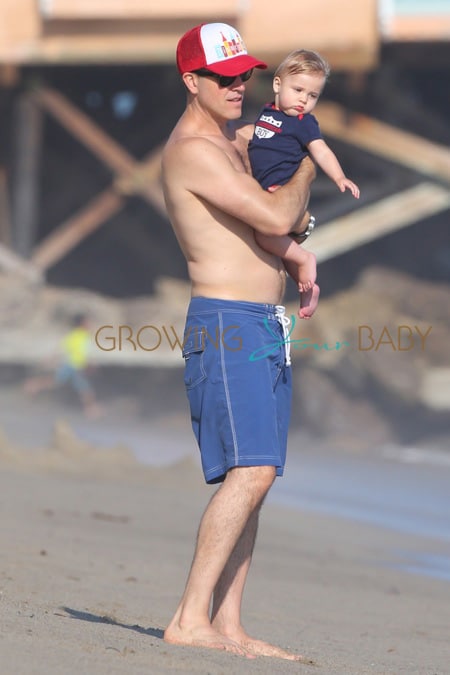 The 9-month-old showed his patriotism in a blue onesie that read American Boy.  He and his dad visited the water but did go in for a swim.
Reese recently revealed To Vanity Fair that yoga isn't her only way to stay in shape,
"I do a lot of dancing with my kids, and when I get dressed in the morning.  I have a playlist. A lot of country. A lot of Top 40. My kids love Macklemore, so that."

"I can do the Dougie!", she added when asked what her go-to party move was.
No afraid to embarrass her kids if they are running late she shared,
"We horrify my children by dancing when the bus comes, with different moves," the actress said, motioning to her husband. "We're like, 'If you don't hurry up, we're going to do the running man in front of the bus.'" Asked whether or not she's followed up on the threat, Witherspoon was quick to add, "Oh yeah. All of the kids on the bus think it's hysterical."
Now that is something I'd like to see!
{INFPHOTO.COM}
---
[ad]