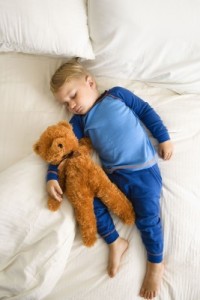 According to a new sleep study, preschoolers that have regular bedtimes and get at least 11 hours of sleep each day score better on developmental tests. Sleep may be what growing minds need the most.
Parents of about 8,000 kids were interviewed on their children's sleep habits at age 9 months and again at 4 years. The findings showed that kids who had regular sleep schedules, including early bedtimes, by the age of 4 did better developmentally. A number of tests were given, including those that measured measured literacy and math abilities. The children with the solid bedtime routines scored higher in these tests than the other children.
"Getting parents to set bedtime routines can be an important way to make a significant impact on children's emergent literacy and language skills," Gaylor said in a news release from the American Academy of Sleep Medicine. "Pediatricians can easily promote regular bedtimes with parents and children, behaviors which in turn lead to healthy sleep."
The American Academy of Sleep Medicine recommends that preschool aged children get at least 11 hours of sleep each night. Losing this can result in greater educational disadvantages. Erika Gaylor, a researcher with SRI International, a research institute in Menlo Park, Calif, authored the study and believes that early bedtimes as well as parents placing strong rules on sleep are important to helping preschoolers develop.
The findings of this study are planned to be released at SLEEP 2010, the annual meeting of the Associated Professional Sleep Societies, being held in San Antonio, Texas. – Summer, staff writer
Related Articles:
---
[ad]