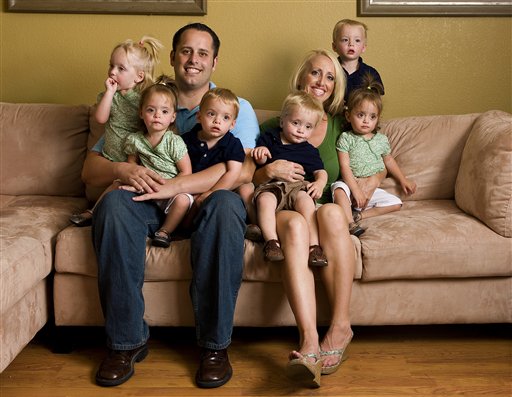 According to RadarOnline.com Bryan Masche was recently arrested in Arizona on charges of domestic violence and resisting arrest.
The father of We TV's 'Raising Sextuplets' was picked up by the Camp Verde Marshal's Office on September 11 and charged with two counts Disorderly Conduct for Domestic Violence, one count Resisting Arrest, and one count Threatening Domestic Violence.
The family, who lived in Arizona when their sextuplets were born, recently moved to Florida so that Brian could pursue new career opportunities.
The sextuplets, three girls and three boys, were born in Phoenix on June 11, 2007.
For the last 2 years We TV has chronicled their journey. The network's website says the couple sees a "relationship counselor" on an on-going basis.
According to reports the Masches were at a relative's home when Brian began yelling at his family and using profanities. It was a relative, who called 911 and deputies responded.
He is alleged to have refused to comply with deputies' commands and that's when he was arrested.
Darby Martin, Public Information Office for the Marshall's office said that deputies assisted the "female victim and that the children were not at the house at the time."
Bryan Masche was taken to the Yavapai County Detention Center where he was booked and released on bond.
The deputies who responded to the scene did not realize they were arresting a reality TV star, Martin adds. "That all came together after they got back."
*Because there are so many unknowns in this case we hope that everyone waits to hear from the family before passing judgement.*
Related Articles:
---
[ad]