Actress Kerry Washington is super private about her personal life – so private that she managed to pull off dating and marrying her NFL player husband, Nnamdi Asomugha, five months ago without the typical celebrity fanfare.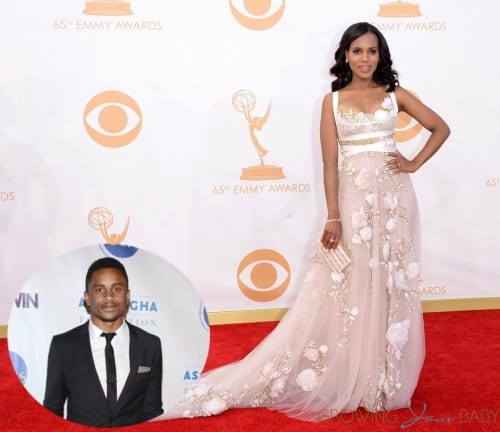 "If I told you, I'd have to kill you," Kerry had joked to reporters when she'd been pressed for details about the wedding.
But the 36-year-old Scandal actress may not be able to keep one little detail about her personal life so private.
When she showed up on the ABC hit show's set in early October wearing her husband's oversized sweatshirt, some had already become suspicious of whether or not she was sporting a baby bump underneath. Now, just before her appearance on Saturday Night Live, a source close to the couple has shared that Kerry and Nnamdi are expecting their first child!
"Kerry and Nnamdi are ecstatic," the source told People.
According to the source, Kerry wouldn't have shared the personal information, but with the upcoming appearance this weekend, "she didn't want the focus to be on whether or not she has a bump."
But despite the recent news, it seems that Kerry, named People's "Best Dressed Woman of 2013" still plans to keep her private life on the down low.
"Kerry will still absolutely be keeping her private life private," the source said.
And one of Kerry's reps would only say, "We do not comment on her personal life."
So why so much secrecy surrounding Kerry's off-stage life?
Kerry, who plays Olivia Pope, previously spoke about her need for privacy to Glamour magazine.
"I learned through experience that it doesn't work for me to talk about my personal life," Kerry had said.
If in fact, the couple is expecting, we extend congratulations and warm wishes for a safe delivery!
Related Articles: