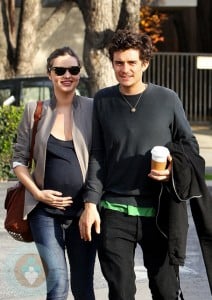 Just a couple days after news of their baby's arrival, it has been revealed that Miranda Kerr and Orlando Bloom's new bundle weighed in at almost 10lbs!
According to the model's grandmother, the baby, the couple's first, weighed a healthy 4.5kg.
Miranda gave birth at an LA hospital last Friday with her parents and husband by her side.
Speaking through a family friend, her grandmother said Miranda and the little guy were doing "very well".
Meanwhile, the Mayor of the model's hometown Gunnedah, Adam Marshall said the whole town was buzzing with the news of the baby's birth.
"Everyone is really excited," he said.

"She still has strong family links here and we are very proud of her.

"We would like to see Miranda, Orlando and the new bub in Gunnedah."
While Mr Marshall & the council were undecided on what they would buy for then family, Deputy Mayor Colleen Fuller said she would like to send the baby a "koala capital of the world" T-shirt, with "I love Gunnedah" written on the back, just like the one Miranda has.
---
[ad]