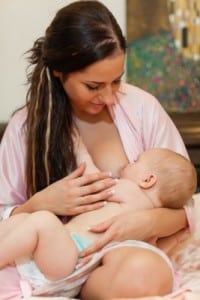 Breastfeeding is best for both mother and baby, but it's not always easy. Countless issues can arise, especially in the early stages – sore nipples, latching problems, engorgement, concerns over milk production and more. How do you resolve these issues? Well, that all depends on who you ask.
If you ask your doctor, you will get evidence-based, medically sound advice. If you ask another breastfeeding mom or a lactation consultant, you may receive medically sound advice, but you could also find yourself on the receiving end of some age-old folklore tips…cabbage leaves for engorgement, tea bags for nipple pain, oatmeal for milk production…the list goes on and on. But are the folklore tips effective? Do they really work? Medical experts say no, but the folklore is still shared by countless lactation consultants and breastfeeding mothers.
Dr. Jonathon Schaffir, an obstetrician at The Ohio State University Wexner Medical Center wondered just how often this unsupported evidence is shared with desperate nursing mothers. To find the answer to that question, he and his team put out an online survey that was answered by lactation consultants from 29 states, all of which are affiliated with the U.S. medical centers. The survey broke folk remedies down into five categories: lactation, breastfeeding initiation, pain management, weaning and substances that should be avoided for baby's sake.
Of the 124 consultants questioned, 69 percent said they had heard of the folklore remedies, and 65 percent had recommended at least one of them to breastfeeding moms. Additionally, the survey found that folk remedies were discussed widely among experts. Those of particular interest included herbal remedies to increase milk production and cabbage leaves to ease engorgement and breastfeeding pain.
Despite the popularity of these remedies, Schaffir and his team say there isn't enough evidence to support folk remedies. He cited a review of studies in which researchers examined various treatments for nipple pain. The review found no significant benefit to using lanolin, expressed milk or lanolin on the nipples.
"Despite the frequency with which such advice is given, there is little empirical evidence to support the use of most of the remedies listed," Schaffir said. "But I'm all for anything that helps and is safe for the baby."
In most cases, that's the nature of folk remedies – effective or not, they are safe for both mother and baby. But not all remedies are considered "safe" by the medical community. One example would include the consumption of beer to increase milk production. Schaffir says that there is no medical evidence to support the use of beer to improve milk production. In fact, some studies have actually found that alcohol consumption decreases milk supply. What's more, there are studies that have found it can have adverse effects on the baby. This folk remedy, which dates back to the 1800's, gained some serious attention after celebrity Mariah Carey used it; some critics accused her of endangering her twins.
Schaffir hopes that this study will help fuel some future research into the safety and efficacy of breastfeeding folk remedies.
"With the attention given to these remedies, this survey may spur future research to objectively measure whether such recommendations are actually safe and effective, rather than relying solely on anecdotal evidence," Schaffir said.
As far as most of these remedies go, I don't know much, but in my own experience, most breastfeeding mothers give the tips they felt worked for them. New moms on the receiving end of breastfeeding advice should practice due diligence and conduct some research, as best they can, about the safety of the recommendations they wish to try. Personally, the three things that worked for me included Earth Mamma Angel Baby Nipple Butter, persistence and a lot of patience. If you stick with it, most often, your body and your baby will respond eventually.
Related Articles:
---
[ad]