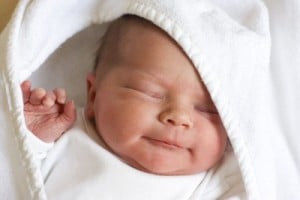 Researchers at the University of Alabama at Birmingham have developed a new way to detect the presence of an infection of cytomegalovirus (CMV) which causes hearing loss in children. They found that a simple saliva swab could help detect the virus in newborns with cent percent accuracy and result in earlier intervention.
The research has been published in issue of the New England Journal of Medicine. The researchers found that when they used liquid samples of saliva of babies, the test gave 100 percent accurate results and when dried samples were used they got 97.4 percent accurate results.
The research was funded by the National Institute on Deafness and Other Communication Disorders (NIDCD), part of the National Institutes of Health.
James F. Battey, Jr., M.D., Ph.D., director of the NIDCD said the infection did not show any symptoms in babies and therefore was hard to detect.
"Most babies infected with CMV don't show symptoms at birth. It's important for us to develop diagnostic tools to screen babies for congenital CMV infection so that those who test positive can be monitored for possible hearing loss and, if it occurs, provided with appropriate intervention as soon as possible."
CMV is passed on from a mother to a child. Of the 20,000 to 30,000 cases found each year, almost 10-15 percent are at risk of hearing loss.
Led by UAB researchers Suresh Boppana, M.D., and Karen Fowler, Dr.P.H., the team in a previous research found that the dried blood spot taken from babies using techniques like the heel prick were not effective in detecting CMV and was successful only up to 30-40 percent. Comparatively the saliva swab was not painful and it gave a more accurate result.
The researchers took saliva samples of 35,000 one day old babies from seven US hospitals. This was done between June 2008 and November 2009.  They then used real-time polymerase chain reaction (PCR) analysis to perform the initial test of the swab stored in solution and for the second one which was air dried.
They compared the results with rapid culture method that is usually used to detect CMV in hospitals. The method is accurate but needs culturing period and does not give fast results. To reduce false interpretations, the team also retested the babies who tested positive in the initial phase. Use of the PCR method also allow the researchers to detect the CMV DNA without any difficulty as it glowed when attaching itself with a special molecule called a primer.
In the first test, 85 infants tested positive for both PCR method and rapid culture showing 100 percent accuracy. In the second test where dry saliva was used 74 of total 76 kids were detected accurately to have CMV infection. The team thus found both methods pretty accurate but because of the convenience of screening large number of infants at once and also the easy handling and transport of the dried swab concluded that it was the best option.
What was also an interesting find was that 16 samples additionally tested positive in PCR method which were not revealed in Rapid culture. Further test did prove that three of the infants were infected and thus PCR proved to be a better method than the standard used procedure of rapid culture.
For the remaining too they believed that CMV might have been present in mother's milk and thus was found in baby's saliva. They therefore also noted that second round of tests were important.
"We now know that we have a test with saliva that works," said Dr. Boppana. "The challenge is, unlike the dried blood spot, which is already used for newborn screening in hospitals across the country, we don't have a system in place for the collection of saliva. But we've shown that if you wanted to test a lot of babies for congenital CMV infection, it can be done."
As a follow up the researcher are now trying to find how much congenital CMV infection contributes to overall hearing loss at birth and between the ages of 3 1/2 to 4 years old.
It is a positive research indeed in detecting and treating large number of kids with CMV infection and saving their sense of hearing.
Related Articles:
---
[ad]