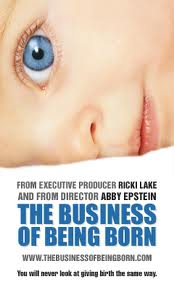 Actress and former talk show host Ricki Lake has turned executive producer for the documentary The Business of Being Born, which will debut at the Tribeca Film Festival.
After having two different birth experiences, Ricki Lake decided to make a documentary on the subject of birth.
She felt like this was her opportunity to explore and question birthing practices in this country and perhaps be an advocate for mothers' rights and better maternity care.
After the birth of my sons, particularly my home birth with my second son, I thought I wanted to become a midwife. Then I looked at all the years of schooling and training that I would have to do and felt that the time could be better spent doing a documentary.
In most cultures throughout history, women have given birth at home. Currently, the majority of women around the world continue to birth their babies in non-hospital settings.
North America women seem to be fixated with cesareans, epidurals and heavy doses of pain medication. Women are denied feelings and experiencing birth through their bodies, plus the drugs can have adverse effects on mothers and babies.
The most successful homebirthers are those who have a strong commitment to it and who trust in their body's natural ability to birth. They are often willing to devote time and energy to finding the right birth practitioner, to doing their own research and to taking care of themselves.
Last year, I did an article on water births. There are some great benefits to delivering your child at home. I was surprised at the alleged reduction in pain when delivering in water, that fact alone could win me over!
The big issue is complications. No one wants to run into complications while not in a medical facility. The midwife is trained to recognize the early stages of complications and to take necessary action. Transport to the hospital during the course of the birthing process may be necessary for the health of either the mother or baby.
The rate of cesarean deliveries is very low for midwives and homebirths compared with hospital births. Part of the reason for this low rate is the fact that most homebirths are kept low risk by good care. Furthermore, midwives aren't in a hurry. They want to take time with their families. They generally don't hurry the birth either, which, ironically, often speeds it up.
The fact that Ricki Lake has been able to spotlight this subject is a positive step for alternative birthing options. Parents will be able to see that there are other choices available to them and make a better educated decision about their birth plan.
---