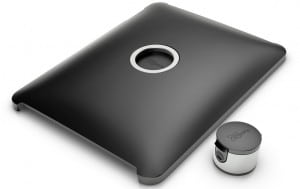 Tablets are increasingly becoming a part of childhood.  Much like a tricycle, checkers or a set of encyclopedias were staples in the toy room not long ago, devices like the iPad seem to be right at home in a child's hand.  Your three-year-old likely knows how to navigate through the screens and apps on the iPad but probably does not understand the value of the device or how to take care of it properly.  Like any other toy it can easily slip on the floor, end up in a pile or get stepped on during play.  Why not secure your tablet with Vogel's RingO – Universal Tablet Mounting System?
The RingO All-In-One Mount and Cover System for iPad is an innovative system that allows you to securely mount or display your tablet anywhere you choose, even in the car.  This set includes a holder for the iPad that can click into the Wall Mount, Car Mount or Table Stand or can be used to protect the screen when transporting or storing your iPad.
Although not designed solely for use with children, we found it to be the perfect accompaniment for my son's iPad.  Like other kids he uses the iPad to watch movies, play games and learn, but in addition to this it is how he communicates.  He is mainly non-verbal and uses a voice output App on the iPad to speak, but does not have the motor skills to hold it and touch the screen efficiently at the same time, so mounting it solves that issue for us.  There are many great uses of the RingO for your family and the best part is that it is so easy to use.
iPad Holder
This is the main component of the system and the piece you will use no matter which mount you are attaching the iPad to.  I like that it is sleek and doesn't add bulk to your tablet like other protective cases we have tried.  It offers all-around protection and houses Vogel's patent-pending precision ring shaped aluminum connector that allows the iPad to connect to the different support systems.  It can be left on even when using your tablet on your lap or desk so you don't need to worry about attaching it when changing locations.
Wall Mount
This is the piece you will want more than one of.  It is a stylish discreet button that screws into almost any surface.  Once in place you simply click the iPad Holder in and it rotates 360 degrees.  Your iPad is out of harm's way mounted on whichever wall you choose.  Some ideas for placement are: a cozy corner for reading electronic books, up on a wall in the family room for watching shows, beside a desk for learning, in the kitchen if your little one enjoys using recipe or craft apps… you get the idea.  We only have one Wall Mount for now but my list of places I would like one installed is growing so I am sure we will buy more very soon.  Vogel's even offers a free WallTimes app to turn your iPad into an alarm clock and timer –  mount one beside the bed to wake your sleepyheads in the morning or use it to keep track of time-outs or teeth brushing time.
Car Mount
This is the mount to make for happily entertained children when travelling.  It turns your iPad into a portable movie player. The mount simply attaches to the front seat headrest (suitable for headrests from 10-20 cm) without the use of tools and tilts up and down so your child has the best viewing position.  You can feel safe knowing that the iPad is securely attached and does not pose a projectile hazard while on the move.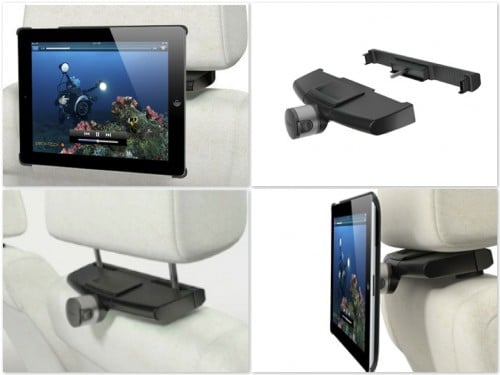 Table Stand
The table stand helps turn your ipad into a desk photo viewer or a stable base to position your tablet for watching movies.  Click it into the back of the Holder and your iPad can stand up in portrait or landscape position on a table, desk, bookshelf or mantle.  Great for the places you don't have a Wall Mount.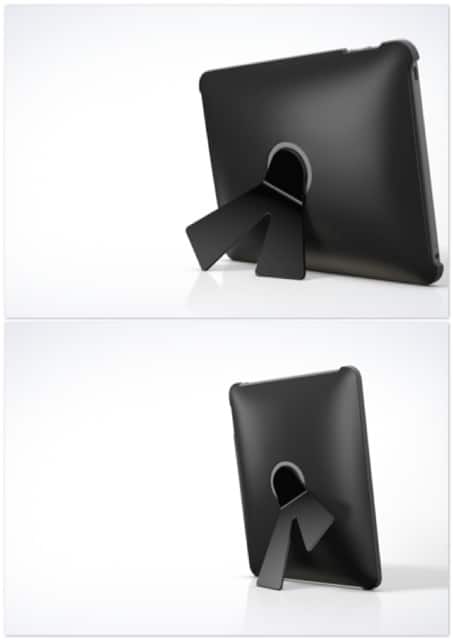 Vogel's currently offers mounting systems for iPad, iPad 2 and Samsung's Galaxy Tab, has a Flip Stand for the iPad and is adding an Adhesive (Wall) Mount and Flex Mount to their collection in September 2011.  Check out www.tabletonthewall.com for details.  Whether your child is using the iPad for learning or play RingO has you covered in any room or on the go.
---