Construction workers were in the right place at the right time on Thursday when a toddler became stuck in some metal clothing lines after her iPad fell over a balcony and she went out to get it.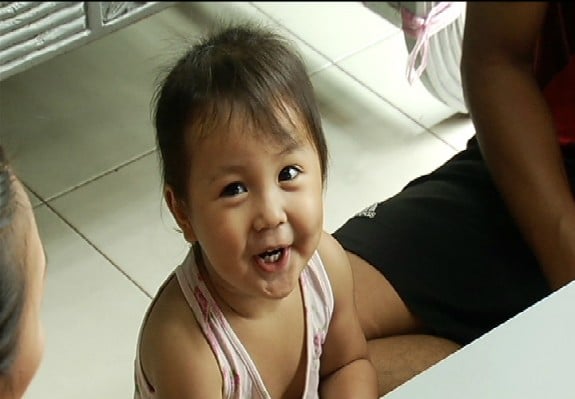 An older woman first spotted the crying baby on a ledge and yelled for help. Two road workers working close by started to scale the building to get to the baby, while others knocked on the apartment door to alert the parents.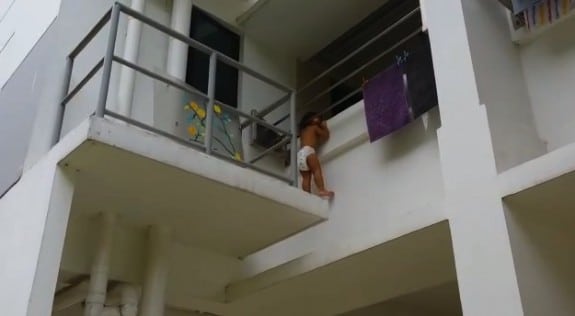 In a video that was taken by David Cheo, it appears that the little girl, whose name was later revealed as Auni, was on the balcony playing with her iPad when it fell over the side. Her head became trapped in the clothing lines as she was trying to climb out to get it, which was actually a blessing as this prevented her from falling off the ledge all together.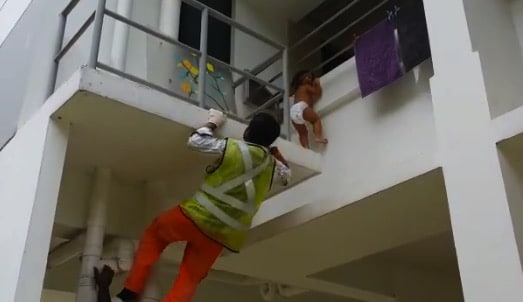 Heros, Subramanian Shanmuganathan, 35, and Ponnan Muthukumar, 24, were both praised by the Singapore Civil Defence Force (SCDF) for their efforts on Friday.
Subramanian first climbed up to a second floor unit to support the little girl who was dangling from the laundry drying rack. Shortly after Ponnan joined him to help pry the girl free.
A passerby had attempted to get to the little girl, but was unable to because of their slippery shoes. Getting up to the second story was easy for them, Subramanian said, as he and Ponnan were good tree climbers.
Subramanian, who is a dad to an eight-month-old daughter in India, said he did not expect any award for his actions.
"When I saw her, she was hanging onto the wall and struggling. She was kicking her legs and crying. Seeing her in that state saving her was my primary concern. I did not want to delay any further as it could cause more problems. So I quickly climbed up."
The little girl's parents told the media that while Auni was having a nap her mom, Noreen Saniri, slipped out to send their second child to school. During the 5 to 10 minute walk, the toddler woke up and started to wander around the apartment looking for her mom.
When faced with criticism about her decision to leave her daughter alone, Noreen said,
"If they were in my situation, I think they'd do the same – where neighbours are not around, and you have no one to turn to. They do not know my family situation, so they can assume anything."
The couple has added a second lock to the balcony door and an officer from the town council plans to help them install safety grills to their apartment.
---
[ad]