Robbie Williams can't wait to become a dad! The singer revealed last week through his blog that he and wife Ayda Field were expecting their first child soon. But now the couple has also made it public that the new rock star in the family is going to be a baby girl!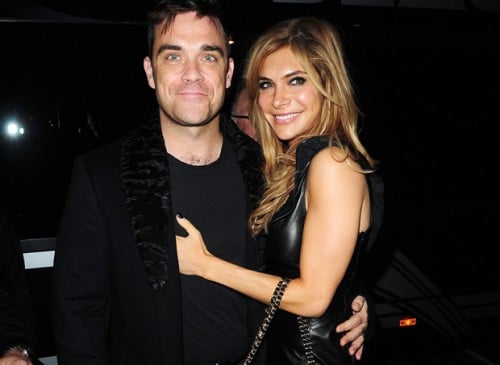 Due in September, the 38 year old singer and his wife are already listing baby girl names. Topping the list is Roberta but Genevieve and Alice too are names that are being considered by the ecstatic couple.
Robbie announced the good news last week through his website in his own unique style. The message read,
 'Hey friendlies, I've been keeping a secret from you all. Me and Ayda are going to be a Mummy and Daddy this year!!!!!!!!

'We had sex! It works!We've seen scans and cried… looked at babies in commercials and teared up… the nursery is already planned.Basically I'm in love with a little person growing in mummy's belly… and can't wait to be a daddy. Crying now.

'Much love, much joy. Roberto, Mum and Little Bump. xxx'
The news caused such a flutter that the site temporarily crashed.
Robbie and Ayda have already shopped for the new addition at Petit Trésor, the exclusive baby store on Robertson Boulevard near their £9 million mansion in Beverly Hills. Their custom-designed sleigh cribs cost up to £2,400 and a Notte Fatata which stores the baby's clothes, will cost £9,291.
A source said, 'He's always wanted to be a dad so he's going all out so his new daughter will be treated like a princess. He wants her top have the best of everything.'
A neighbor added,
'It's safe to say he's completely gone gaga over his baby – and why not? He's a great guy and I'm sure he'll make a wonderful father.'
The singer married Ayda in August 2010 after a four year long relationship. His proposal too was dubbed as a stunt when the singer proposed to Ayda in a live concert in Australia. Even his spokesperson laughed off the impending marriage as a stunt. But the two did get married seven months later and are now getting ready to greet their baby daughter into the world in the same celebrated style.
---
[ad]