The popular thing for a designer to do is to collaborate with a trendy baby gear company and launch a limited edition collection.
Roberto Cavalli is the latest designer to create an exclusive line of strollers to be called "Baby Safari Collection" in collaboration with Aprica.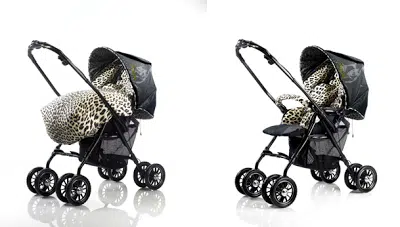 The collection that will be launched later this month includes four strollers made in black, ice with dark brown head color and a golden custom RC logo on it. The hi-tech stroller boasts the "+ protection" feature that ensures support to the neck and the correct posture to the newborn. In addition, a transparent triple hood comes with double usability, i.e. blocks UV rays, allows perspiration and protects the biological rhythm of sleep.
The Thermo Ventilation System is another innovative feature incorporated that offers temperature regulation and reflection of heat. The aluminum and nylon fiber body is responsible for its lightweight and enhanced durability, making it more parent-friendly.
The price is not currently available.
---