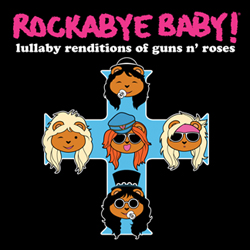 Rockabye Baby makes music a cool experience for babies and their parents, while introducing kids to awesome musicians that their moms and dads love — by transforming popular, iconic tunes by rock bands from Queen to the Beatles into sweet lullabies! Their latest baby rock album rendition is from Guns N Roses… so parents who feel like their family's theme song should be "Welcome to the Jungle" will delight in adding this CD to baby's nursery ambiance!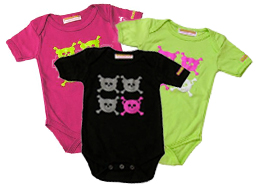 As if Rockabye Baby's amazing, revolutionary CD's weren't enough to rock our world (who wouldn't want to help baby develop an ear for Coldplay, Aerosmith, the Eagles and Bob Marley?) they have also added brand new limited edition onesies to their line. Available in long and short sleeve versions, and colors black, gray, green, white, pink and black, these super hip onesies boast Rockabye Baby's bear and crossbones logo — and just in time to outfit your little rock star for the holidays, Rockabye Baby is offering a holiday special: up to 20% off apparel until December 31st!
Rockabye Baby is the ultimate gift for music loving families — and it's such a relief to know that babies will love these tunes, even if they aren't sung by a purple singing dinosaur!
WIN IT!! Rockabye Baby offered 2 Growing Your Baby readers the chance to win 1 of 2 prizes.
Runner Up Prize: a copy of Guns N Roses
Grand Prize: 1 Deluxe gift box which includes: 1 Lullaby Renditions of Guns N' Roses, 1 Lullaby Renditions of Aerosmith, 1 Lullaby Renditions of Queen, 1 Rockabye Baby! Digital Download Card Gift Package (which lets the recipient download the album of their choice and also includes stickers and temporary tattoos)
Congratulations to our winners Chrysa and Nicole
---