With the increase in sales of recreational drones, there have been more and more reports of accidents involving the small aircraft.  Available for purchase at most stores, individuals aren't required to register their drone if it isn't being used for commercial purposes, nor is there an age requirement for operating one.
A 19-year-old has been fined after a child in a park swing was hit in the face by a drone two weeks ago.
Mom, Cassandra Roberts told wthr.com her one-year-old Atticus was minding his own business when he was hit by an object falling from the sky above a city park.
"I'm just trying to take my kids to the park and have a normal day.  It was a good sized drone and it had the four different propellers," Cassandra said.
When the drone hit the toddler it slashed his cheek, chin and lip.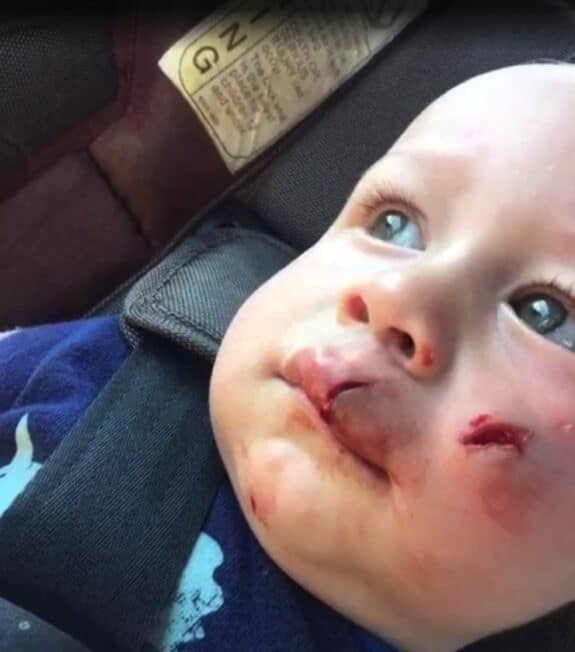 As soon as they saw what happened the drone fliers apologized to Cassandra but in her frenzy to get her son to the hospital she did not get their names.
"It was an accident but I can understand being upset because it shouldn't have happened," said Cassandra.
She did, however, file a police report after a trip to the hospital.
Police noted that flying drones at the location was illegal.  Shortly after the accident, they appealed to the public for help to identify the individuals who were operating the rogue aircraft.
Thankfully Atticus is healing well will not require surgery.
"He's doing good and his scars are healing pretty good."
The teen flying the drone will have to pay $75 which, in addition to $85 in court fees, results in a total penalty of $160.
Having flown a drone I know how easily they can experience signal loss with the remote control.  This means the user cannot communicate with the drone anymore increasing the chances of a flyaway which is likely what happened.   While they are fun to use more regulations need to be put in place before individuals are allowed to use them.  Companies also need to improve on their technologies so accidents like these ones can be prevented.