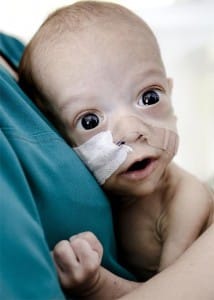 He captured hearts around the world with his bright, beautiful eyes that appeared to be full of life. Unfortunately help for him came too late. Born with stunted intestines, baby Andrei lost his fight on Thursday at the tender age of 9 months.
In April, following an Associated Press article, people in Europe and the United States began offering funds and medical expertise to help the Romanian baby get a complicated intestine transplant needed to save his life.
The surgery, which was performed 10 days ago, was too late. His doctor, Dr. Catalin Cirstoveanu said his condition deteriorated after the procedure.
"He was no longer vivacious; he was apathetic; he got an infection; there were complications," he said. "It was impossible to tie the intestine and he couldn't eat. His liver was damaged."
Dr. Cirstoveanu was in talks with doctors in the U.S. to get Andrei a transplant.
"He fought for nine months, but it was too late for him," said his mother Cristina Mistreanu, 15. "We hoped a lot that the doctors would come from the U.S. to operate on him, but now there is no hope left."
Our thoughts are with this couple and the staff who grew to love Andrei while he was in their care in the ICU. Knowing the teen parents were low on resources, many of the nurses had even participated in a lottery to raise money for his operation.
---
[ad]