Today, we were excited to learn that Royal Caribbean Cruise Lines have become the first cruise line to be certified as "autism-friendly" by Autism on the Seas.
USA Today reports that the new designation indicates the line will take specific measures to help its guests with autistic family members enjoy their cruise.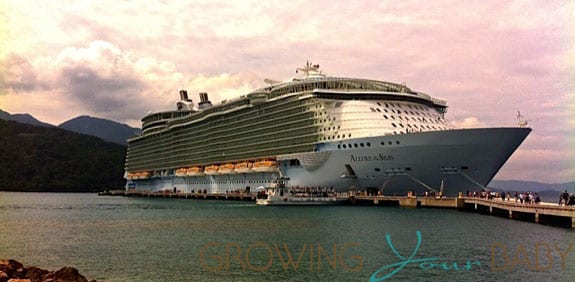 Autism on the Seas™ (AotS), the leading travel organization catering to vacationers with autism and other developmental disabilities, today announced the introduction of the travel industry's first "Autism Friendly" Certification Standard & Training Program for cruise lines.

In a press release the organization revealed that Royal Caribbean International is the first cruise line to receive certification from Autism on the Seas, thereby assisting with reasonable accommodations for inclusion and participation by guests with autism and developmental disabilities. Effective immediately, Royal Caribbean's entire fleet is comprised of Bronze Level certified "Autism Friendly" ships. The fleet is expected to achieve Silver Level certification by the end of 2014.
"Offering cruise lines a Standard that includes training for their staff to effectively accommodate the needs of the growing and underserved autism community marks a turning point in the travel and cruise industry," said Mike Sobbell, founder and president of Autism on the Seas. "We are very proud to bring Royal Caribbean on as our first "Autism Friendly" Cruise Line Certified partner. Royal Caribbean's involvement and initiative to accommodate this community is to be commended, and will open the door towards filling the gap for special needs families seeking a vacation designed for their wide range of unique requirements."

"We are honored to be the first cruise line to achieve Autism Friendly certification," added Lisa Lutoff-Perlo, executive vice president of Operations for Royal Caribbean International. "Royal Caribbean is a global leader in taking guests to unforgettable destinations and is committed to catering to vacationers of all abilities. We have worked with Autism on the Seas for more than seven years to better provide accessible cruise vacation options for families with autism."
Autism on the Seas Cruise Line Autism Friendly Certification Standard is designed as a guideline for cruise lines to ensure their pre-cruise and onboard services, venues and amenities are accessible for inclusion and participation by the autism and developmental disability community. The reasonable accommodations to comply with this Standard are, and can be, customized to each cruise line's policies, procedures and ships, to ensure sustainability and effectiveness in retaining the scope and intent of the certification. Certifications are awarded by individual ship. Depending on the certification level, ships may be required to conform to seven categories, including:
Cruise Staff Training
Youth Program
Pre-Vacation Planning & Services
Dining/Dietary
Disability Accommodations
Guest Satisfaction & Feedback
Support for "Cruises with Autism on the Seas Staff"
Four Autism Friendly Certification Levels
There are four levels of certification, each progressing with increased levels of staff training.
Bronze Certification: Confirms the ship's readiness to accommodate guests with autism and other developmental disabilities to provide equal access onboard services and amenities. Some of the reasonable accommodations include providing sensory related toys and cruise social story, autism friendly modification to youth activities (where appropriate), autism friendly movies, priority boarding, dietary offerings (including gluten free and dairy free), and several modifications to services for groups of guests with disabilities.
Silver, Gold and Diamond Level: Focuses on increased staff training. Silver Level ensures that all Youth Staff have received basic awareness training in autism and other developmental disabilities. Gold Level ensures that all Youth Staff have received advanced training, and we provide other shipboard staff with basic awareness training. Diamond Level ensures that we provide "hands-on" training for our Youth Staff.  All of Royal's ships are schedule to be Silver level certified by Q3 2014.
Visit AutismOnTheSeas.com for a list of Certified Ships, details on the Certification Standard Criteria, and information on the first Autism on the Seas "Cruise with Staff" aboard Royal Caribbean's Bronze Certified "Serenade of the Seas" – departing New Orleans on March 8th to Key West and the Bahamas (and other cruises).
As the mom of a little boy with autism it is hard sometimes to explain to staff while we are on vacation who my son is because every child with autism is so different.  They all have different triggers and fascinations.   We like to use the kid's clubs while we are away but worry the staff doesn't have the training to engage him or offer the right options if something goes awry. In fact we peeked in on him during one vacation and noticed him sitting by his self, while the rest of the group did crafts.
For this reason we applaud Royal on their certification.  We have cruised with them many times in the past and plan to continue in the future.
---
[ad]