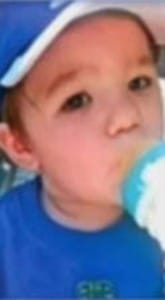 Just a week after his disappearance sparked a massive search, a South Carolina toddler has been found wandering the streets again by a neighbour.
Last Saturday a search helicopter along with about 75 police, fire department and civilian volunteers, worked to help look for Tyler Jacobson after he wandered out of his house while his mom Jacklyn Marie Jacobson, and her boyfriend were watching movies.
More than 12 hours after his disappearance the toddler was found a quarter-mile from the family's home wearing just a diaper and a t-shirt. The family dog, a mixed Labrador was credited for keeping him safe and warm during the cold night.
And while the little boy and his baby brother were found to be living in 'deplorable' conditions, authorities still turned the toddler over to his mom and her live-in boyfriend.
Now, just a week later, a neighbour was shocked when he woke up over the weekend and found the child screaming in his back yard.
"It was back over in here, right beside this wood pile when I found him," said neighbor James Lawson, "I was just amazed that he wasn't hurt."
Tyler was accompanied by another neighbor's dog as well as this same trusty companion who kept him safe last Friday night.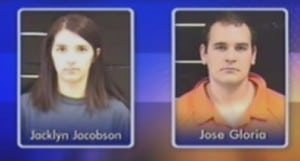 This time police arrested the couple and charged them with child neglect. The department of social services took Tyler and another six-month- old child away from the home.
Sheriff Jim Matthews said Tyler's mom didn't seem upset that her child had wandered off. Investigators said they smelled a strong odor of marijuana inside her home.
Jacklyn Jacobson, and her boyfriend, Jose Gloria now sit in jail and will appear in court today. Hopefully both boys will be placed with caring families.
I have included the video from the news story.  They interview the gentleman who found Tyler and show how far he wandered from his home.  It's amazing he didn't get hit by a car.
---
[ad]