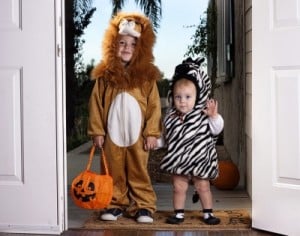 Halloween can be a very enjoyable time of year; it can also be a very dangerous time of year according to a, first of its kind, study conducted by Safe Kids.
According to the non-profit organization, only one third of parents talk to their children annually about Halloween safety. Yet, twice as many children are killed while walking on Halloween than any other day of the year. Safe Kids also found that 40 percent of parents allow their children to wear or carry an unsafe item while out and about on Halloween night. These items can include loose or dark clothing, masks, or sharp objects.
Probably the most disturbing information revealed by Safe Kids was that twelve percent of children under the age of five are permitted to walk the streets on Halloween night without adult supervision. Children this young lack the cognitive ability and maturity to accurately gauge distance or detect potential dangers.
Only children 12 or older should be allowed to trick-or-treat without adult supervision, says Safe Kids. And even then, older children should go out in groups on a well-lit, predetermined route.
Kate Carr, President and CEO of Safe Kids Worldwide said, "By following the basic safety tips provided by Safe Kids, Halloween can be a fun and safe night for children of all ages."
The following is a list of safety tips created by Safe Kids and FedEx that can help keep your children safe this Halloween:
Trick-or-Treating Safety:
Children under 12 should trick-or-treat and cross streets with an adult.
Always walk on sidewalks or paths.  If there are no sidewalks, walk facing traffic as far to the left as possible.
Cross the street at corners, using traffic signals and crosswalks.
Decorate costumes and bags with reflective tape or stickers and, choose light colored costumes that fit properly and avoid carrying sticks, swords, or other sharp objects.
Check treats for signs of tampering before children are allowed to eat them.  Candy should be thrown away if the wrapper is faded, torn, or unwrapped.
What Drivers Need to Know:
Slow down and be especially alert in residential neighborhoods.  Children are excited on Halloween and may move in unpredictable ways.
Anticipate heavy pedestrian traffic and turn your headlights on early in the day so you can spot children from greater distances.
Remember that costumes can limit children's visibility and they may not be able to see your vehicle.
Reduce any distractions inside your car so you can concentrate on the road and your surroundings.
Related Posts:
---
[ad]