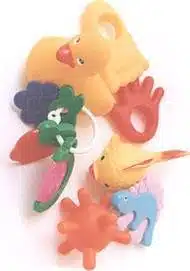 Recently, I bought a teething toy for my son that has "NO Phthalate" stamped on the bottom. I followed it up by checking online to see why phthalates were not used and if they were harmful.
Phthalates (pronounced thay-lates) are added to make the PVC soft and squishy for use in infant toys that are chewed and sucked primarily to relieve teething irritation. Heavy metals like lead and cadmium are added to make the rigid type of PVC more durable for use in older children's toys and other consumer products.The toxic components in the PVC plastic used in these toys are not stable; the chemicals can leach out. These chemicals can be consumed by children when children suck or chew on the soft plastic and can show up in the bloodstreams of children. Laboratory studies show that some of these chemicals are linked to cancer and kidney damage and may interfere with the reproductive system and development.

Studies have shown that these chemicals are hormonally active and may interfere with hormone systems that regulate normal growth and reproductive development in children. www.oregontoxics.org
What toys have PVC in them, I wondered. PVC or vinyl, is commonly used in teethers and soft squeeze toys for young children, beach balls, bath toys, dolls and other products, such as knapsacks, raincoats, and umbrellas. If you are not sure, these products sometimes have a "New Smell" or you can smell the strong plastic.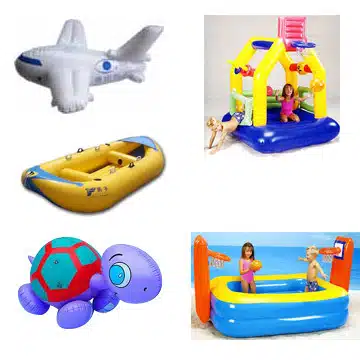 Some companies like Little Tykes ,Lego, IKEA, Sassy, tinylove, and Lamaze(under 3) have gone PVC free. Chances are if you have bought your child a blow up pool or water wings this summer there is PVC in it. While looking for examples today I saw 2 things that my son has for the pool on the list. I figure for the 10-15 minutes that he sits in his turtle in the pool there shouldn't be much of a problem. I just wouldn't put him to sleep in a blow up bed!
---