Same sex couple, Karen Wesolowski and Martha Padgett wanted a baby so badly that each one underwent IVF treatment, having two embryos implanted.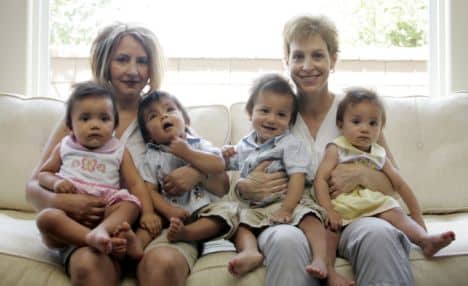 Exhausted after trying to get pregnant for 3 years, Martha suggested that they should both have eggs implanted.
In order for it all to work, both had to take medication to make sure they were on the same cycle.
After trying 5 times to pregnant(at $15,000 per try), the ladies were shocked to find out that this time they were BOTH expecting.
Even though they knew that 2 embryos had been implanted, they didn't ever believe that they would end up with 4 babies.
During the three month ultrasound the women discovered Martha was expecting twins – and a month later they were shocked to find Karen was too.
Martha, 38, gave birth first to babies Sophia and Alex, and Karen gave birth 22 hours later to their siblings Andrew and Sienna.
They didn't expect they would give birth on the same date – let alone 22 hours apart at different hospitals.
One of Karen's babies, Andrew, suffered breathing problems and had to stay in hospital for several weeks, but her daughter Sienna was fine and healthy.

'It was tough having to have one baby home at a time,' she said.

'But eventually we had them all together again.'

'We both breastfed,' said Martha. 'So, when one baby woke up one of us would get up and feed them, and then when another woke the other would feed.

'It's been really hard with four babies. But we're so thrilled, knowing they're all related and can help each other through life.'

Karen added: 'Now we have four babies who are all brothers and sisters. Our family is complete.'
Related Articles:
---
[ad]