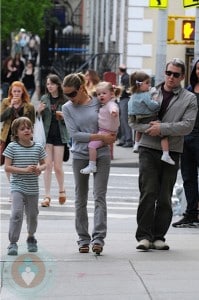 During a recent interview with the Telegraph Sarah Jessica Parker shared some of the most intimate details about her life, her personality, her marriage, her childhood and her role as a mother. While she is most known for her role as Carrie Bradshaw in Sex and the City, in real life she shows almost no resemblance to the character.
Better glimpses into Sarah's character can be seen through her more recent roles in the movies I Don't Know How She Does It and New Year's Eve. In both movies, Sarah plays a mother. In I Don't Know How She Does It, she struggles with the balancing motherhood and career as Pierce Brosnan.
Juggling kids and a career is something that Sarah is pretty used to. She's worked almost non-stop since her early teens. After the birth of her 8-year-old son, James Wilke, "I stopped working for a year after, so I had a nice amount of time with him," she says.
But after the surrogate birth of her two-year-old twins Marion & Tabitha, she had to travel to Morocco for the filming of Sex and the City 2.
"That was rough," she said. "You just hope that your children are not terrifically disrupted by the choices you make."
But if she's been acting so long, surely she mustn't need the money…so why does she do it? When asked, she replied:
"For me, it has been hard to say no. I wanted a family but before I had a family, I was a career person. I've tried to marry those two things and sometimes it is successful and sometimes it is not."
Sarah shares that she never actually thought about being a mom before meeting her husband, Matthew Broderick.
"It wasn't that I didn't want it," she says. "I just wasn't one of those girls who dreamt of her wedding day and the birth of her first child. I assumed it was going to happen, but I didn't know when it was going to happen because I was focused on my work."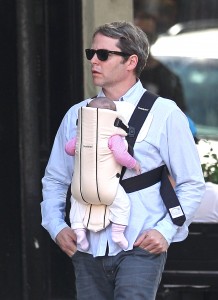 Thankfully, Matthew, her husband for the last twenty years, helps out a lot. Captured in countless paparazzi photos with his children and out shopping, Broderick gives off the impression of the domestic dad.
"He does lots in the house. He shops for me a lot and he cooks for all of us," Sarah shares. "There are a lot of things he does better than I do, so it balances out. I don't feel taken advantage of. We take care of each other."
Of course, twenty years of marriage and going from one child to three hasn't come without its share of tidal waves; one of was the unexpected announcement that their surrogate was carrying twins. Sarah revealed that meeting her children was a different experience than actually giving birth to them.
"You don't know them as well immediately as you do a child you've given birth to. But you do have an immediate love and affection for them and what is instinctual happens," she says.
But the couple didn't want James Wilkie to be an only child.
"We were hopeful that we would have one healthy child. It was a wonderful shock getting two: the cherry on the sundae," she stated. Still, as wonderful as the discovery of twins was, Sarah shared that, "going from one to three children is a much bigger adjustment than becoming a mother in the first place. One child in retrospect seems a cake walk compared to where I stand today."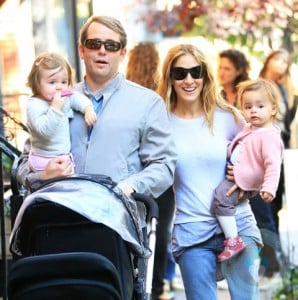 Twins meant more time spent on children, to which Sarah says, "kids can really distract you from your relationship. Maybe in good ways and bad ways. It is important to have all eyes on all parts of the relationship. It's something you really have to pay attention to. But you figure it out."
Still, Sarah and Matthew have a little more figuring out to do before their children reach the age of her on screen rebellious 15-year-old daughter in her most recent film, New Year's Eve. It's nearly impossible to prepare for the changes of your parenting relationship during the teen years. But thankfully, the children's pediatrician gave a little insight about what life might look like when her kids grow up.
"When James was born, the pediatrician called him a hothouse flower because he was so delicate," she shares. And the twins? "One of them was going to look after me and hold my hand at the end and the other one was going to arrange the funeral."
Life may not be exactly what Sarah had dreamed about,
"I would never have imagined this life. From a young age I imagined becoming an actor. And that's probably as much as I would have ever dreamt of," she says, adding that "everything else has been surprising and miraculous."
A wonderful statement that indicates that life is just as it should be for Sarah Jessica Parker.
Related Articles:
---
[ad]