My guilty pleasure? Re-watching some of my favorite series from before I had kids. Like many of you, Sex and the City was a favorite for me and I was excited to hear they would be rebooting it under the title "And Just Like That'.
When it was announced, however, I wondered if Carrie would continue to be as edgy and fashionable as she had been during the previous seasons and movies. Would they adjust the character's lifestyle to match our current time? Would she still be relevant?
SATC's original costume designer Patricia Field didn't return for the reboot as she was already on location in Paris shooting Emily in Paris.
From the photos I've seen, there appears to be some strong continuity between Carrie's 90s fashions and 2021. Despite Sarah owning her own fashion shoe label, she is spotted wearing many other high-end styles in most of the scenes. The looks are a mix of vintage fashion, designer, and even some thrift finds.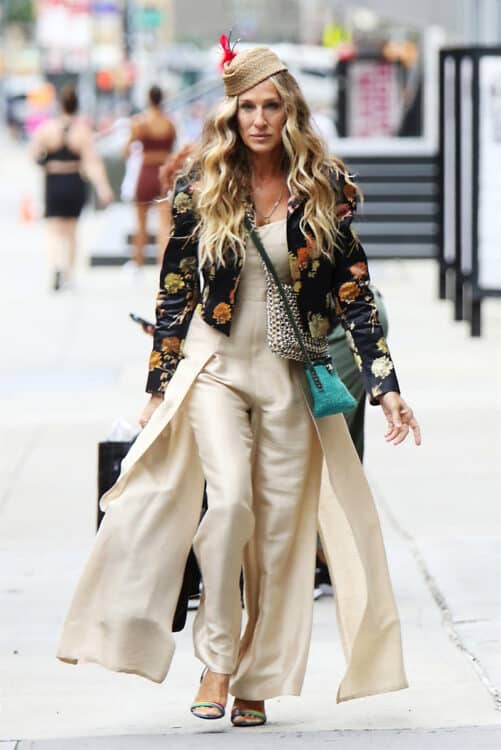 In the picture below she wears Celine shoes, a Norma Kamali dress, and carries a vintage bag. Cynthia Nixon wears Manolo Blahnik's, Vince pants, and an Altuzarra top.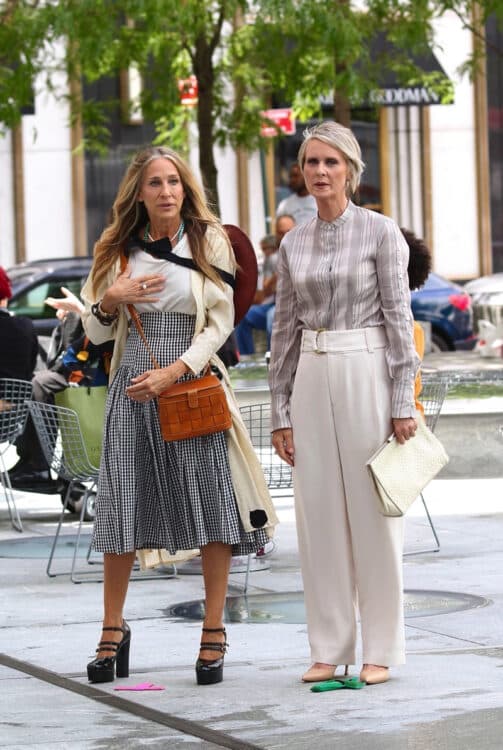 In the scene with Bridget Moynahan, she wears the Forever 21 dress(correction – the AJLT team has said this was a thrift find that didn't have a tag) with a Gucci x Balenciaga bag.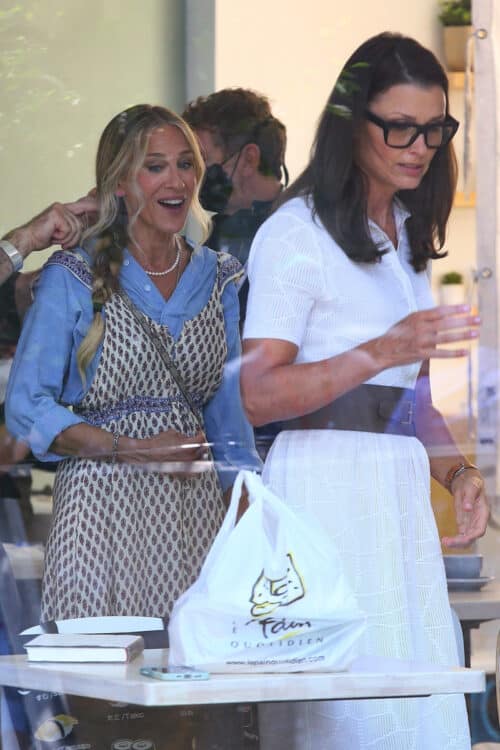 I personally love the pink Carolina Herrera dress she was spotted in while filming on July 19th, 2021. The dress is paired with Manolos and a vintage handbag.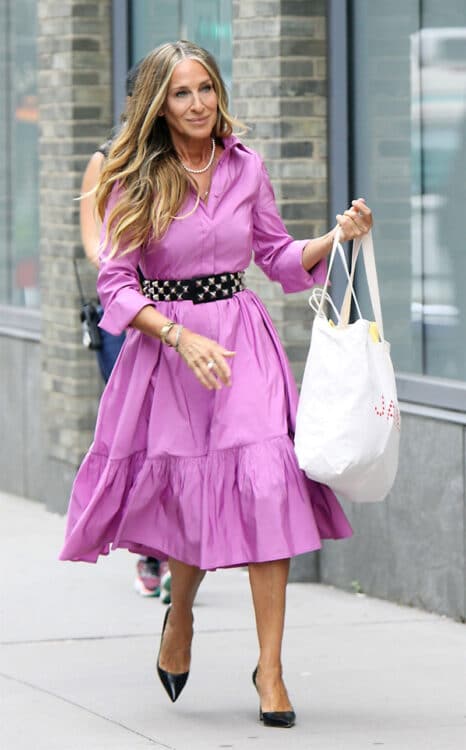 Sarah, Cynthia, and Kristen film a scene where they're looking up at a billboard(possibly).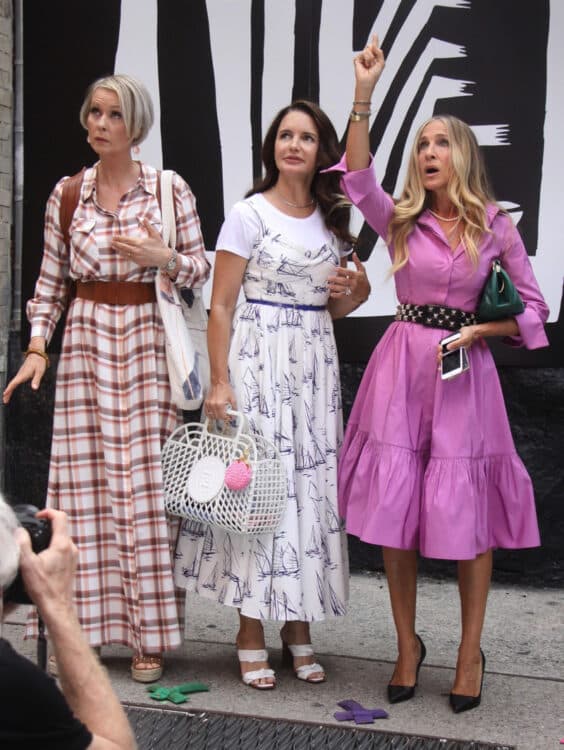 For a scene outside Webster Hall Sarah wears Yves Saint Laurent shoes and carries a Fendi sequin purse.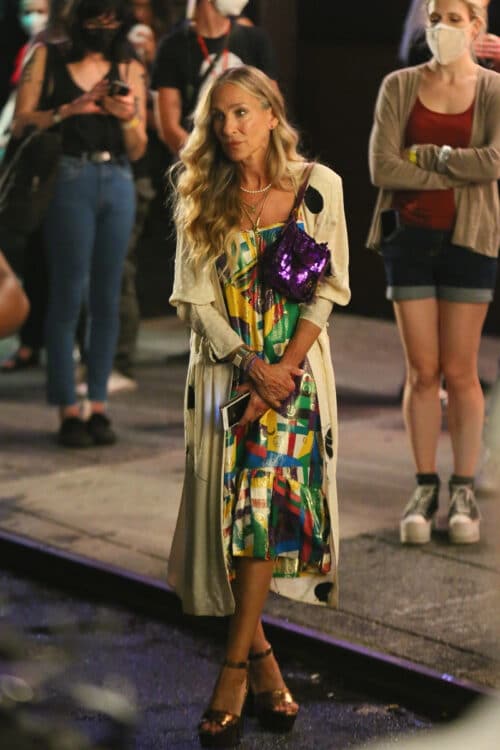 While filming with Mario Cantone on July 24th, she was gorgeous in an ivory blazer, white blouse and blue flower brooch.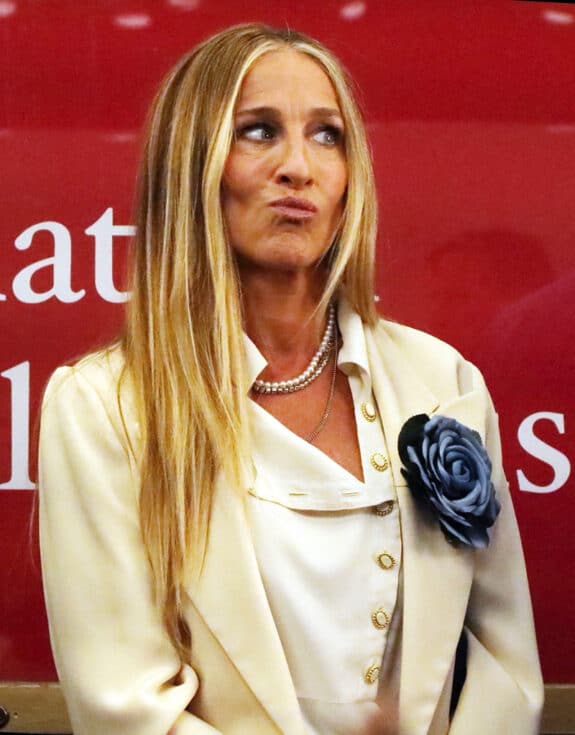 While many are unhappy Kim Cattral isn't returning, the series has added quite a few new characters who will spark new stories. Chris Noth is back as Mr. Big, but from leaks we've read – the marriage is on the rocks – and Carrie and Big are headed to divorce court.
The series isn't expected to be released until the end of the year. But I can tell you it looks like it will be fantastic and these mamas are killing it!
UPDATE: Chris Noth and SJP were photographed filming on August 2nd, 2021. Sarah wears a Carolina Hererra Skirt with a Capezio Ball polka dot skirt and Duchessa Gardini embellished black pumps.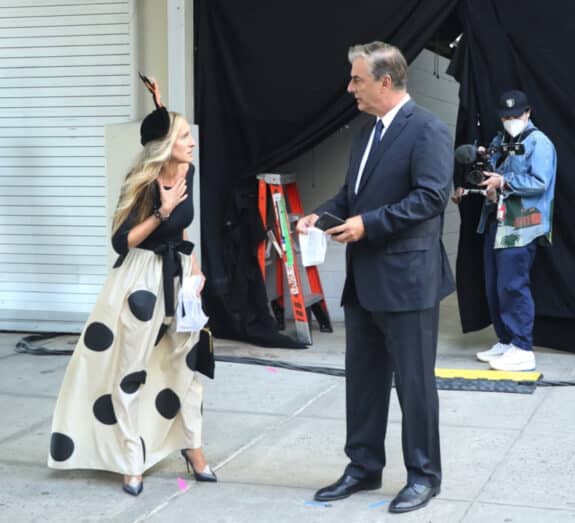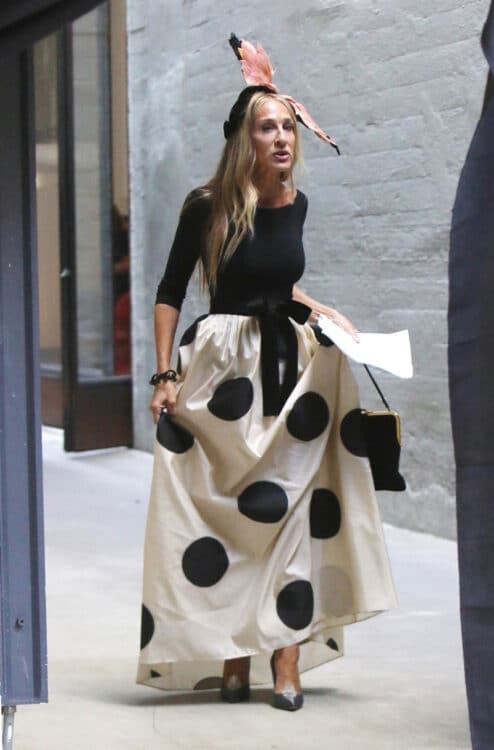 On August 8th, SJP and Kristen Davis(not shown) film scenes together.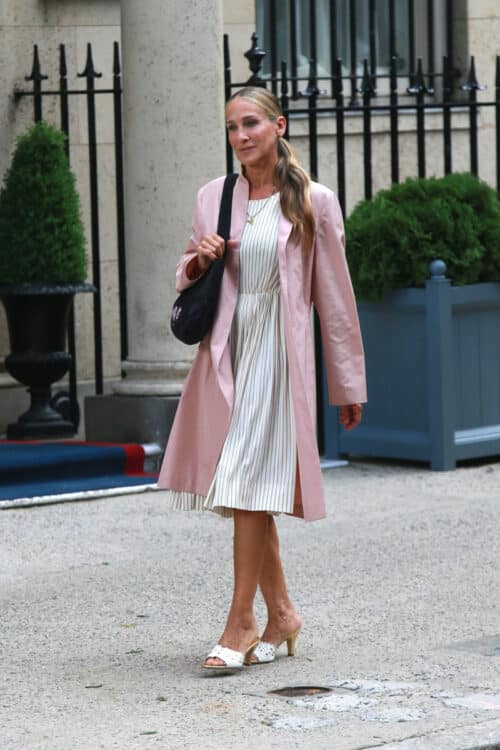 On August 12th Sarah put the controversial tagless dress back on over a chambray shirt to film scenes with Cynthia Nixon on the steps of the Grant Memorial in NYC.
{BACKGRID}