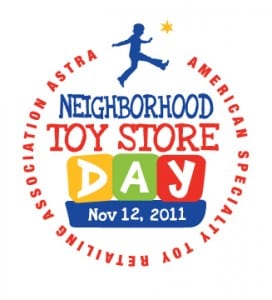 As we start to shop for gifts for the Holidays it's important to remember the local stores in our cities.  Held every year on the second Saturday of November, National Neighborhood Toy Store Day was started to remind us the importance of independent toy stores and the value of shopping within their local community.
Neighborhood Toy Store Day is a wonderful opportunity to showcase independent stores' expertise and the important role they play in the community. Neighborhood Toy Store Day festivities allow you to see what your community store has to offer. Shoppers who feel overwhelmed by the size and poor customer service at big box retailers will appreciate the well-edited selection and personal service available at their community toy store.
Shopping at neighborhood and independent retailers not only increases consumer choice, it also preserves jobs and local character. According to the 3/50 Project, for every $100 spent in local, independently-owned stores, $68 returns to the community in the form of taxes, salaries, charitable contributions, children's educational programs and more–in contrast with only $43 dollars when consumers spend their money at a national chain.
In our city we have a great shop in a little village behind the hospital.  The owner of the shop was an occupational therapist before she opened the store and she is always very helpful when I am looking for something either for my own kids or to purchase as a gift.  They carry a lot of wooden toys, eco-friendly products and small companies which I love.  Plus, because she was a therapist she always has tips on other ways that we can use each toy to help my son learn that much more.  I am greeted as soon as I walk into the store, she shows me toys I may not have known about and knows my kids.  The shopping experience for me is much better than that at the Big Box or Department store because it's HER store and she cares if I come back.
To Find a Participating store near you please visit www.astratoy.org and www.neighborhoodtoystoreday.com
Related Articles:
---
[ad]