It was the best birthday present a Lexington Kentucky mom could ask for – 5 beautiful babies all arriving on her 26th birthday.  The first time parents will definitely have their hands full after welcoming 4 girls and one baby boy at UK HealthCare Birthing Center on November 11th!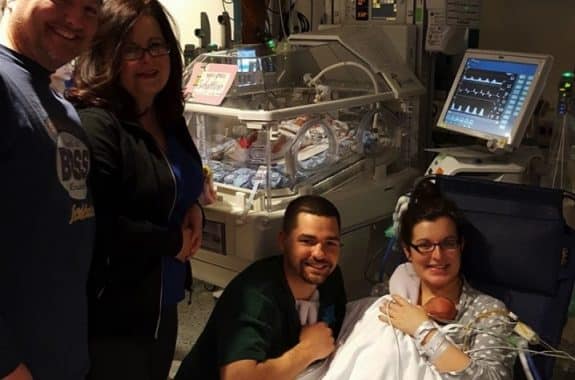 Katie and Lucas Schaftlein shared their story today at a news conference with Dr. Wendy Hansen, chief of UK Women's Health Obstetrics and Gynecology, and Dr. Peter Giannone, chief of the Division of Neonatology, at Kentucky Children's Hospital in Lexington.
After learning she was pregnant Katie made it to 22 weeks before being placed on bed rest.  As luck would have it Lucas had just left on a business trip to Japan and would have to turn around and fly back home when he learned his wife had been admitted to the hospital while he was en route.
At 29 weeks and five days gestation, the babies decided their mom's birthday was also going to be their big day too.  Katie's water broke at 7:30pm and the team was ready for her to deliver the babies by emergency caesarean section at 11:30pm.  In just 4 minutes the couple became parents to  Savannah, Sadie, Sofia, Scarlett and Lucas.   With the last baby arriving at 11:56pm, cheers erupted throughout the halls of the birthing center.
"We were worried because we didn't want them to have two different birthdays," Katie said. "Everyone cheered, and at that point I was like, 'Okay, they are out.'"
According to a news release from UK Media, "A coordinated interdisciplinary effort from doctors, nurses and therapists at UK HealthCare and Kentucky Children's Hospital ensured a healthy and happy welcome for the five babies, who are being monitored in the region's only Level 1V Neonatal Intensive Care Unit."
"We're overjoyed," said Katie during the news conference on Thursday. "We've never been happier. Anything could've gone wrong, but they're so stable and so healthy."
"Sadie is the smallest," Katie added. "Whenever she was in my belly, she would move all the time, and that's exactly how she is right now, she moves all the time, she cannot sit still."
The Schaftlein quintuplets will remain in the hospital for several weeks before they are ready to go home. Lucas and Katie are visiting and bonding with the babies in the NICU.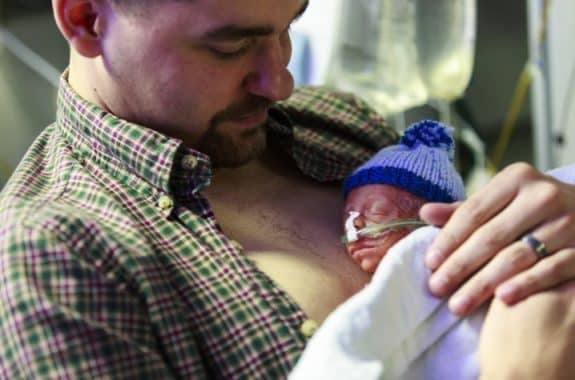 The couple told the media they are grateful for the support, dedication and poise of members of their integrative medical team.  What made the delivery extra special was that several nurses who assisted the family throughout Katie's hospitalization were present at the delivery to "catch" (or retrieve) each baby to the NICU.
"It came full circle. Everyone who helped in the beginning was there for the delivery," Katie said.
---
[ad]