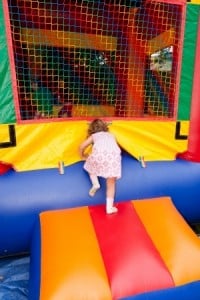 Bounce houses; they're a birthday party icon. When a child spots one, they are immediately drawn to them, wanting to play on it, jump, slide and have a grand old time. But recently, these colorful party props have been have raised concern over safety after two of them in a span of two weeks became airborne while children were playing inside of them.
This past Saturday, the bounce house at the Rocky Mountain Lacrosse Jamboree in Colorado suddenly became untethered and lifted into the air. Witness Vannessa Atencio describes the scene as one of the children tumbled out of the bounce house,
"All of a sudden it picks up and there's a girl going down the slide. She flies out about eight feet into the air. It was pretty horrific and scary. You just kind of freeze in the moment. You don't know what to do."
Two children were injured in the incident, a young girl who was ejected off of the inflatable slide when the house became airborne, and a ten year-old boy who had been inside the bounce house, were rushed to the local hospital. Doctors expect that they will make a full recovery. The company that supplied the bounce house, Air Bound, believe that the incident was a "freak accident," and say that all safety precautions were taken and the house was properly tethered to the ground, as well as being monitored by an attendant.
Two weeks ago in South Glens Falls, New York, two young boys both suffered critical injuries after a strong gust of wind blew away the bounce house they were playing in. Both boys fell from the inflated structure from a height of twenty feet, landing on asphalt. One young girl was also in the house at the time, only suffering a few minor scrapes and bruises.
A similar incident also occurred in 2011 when the wind blew away a bounce house in Long Island, New York. Thirteen people were injured in that incident.
Dan Stuckey, who is the general manager of Jump and Jam, a safety certified bounce house company in New York shared a few tips with the TODAY Show about how to keep our children safe in bounce houses. Stuckey explains,
"This wall of the bounce house, it's just like a kite or a sail. If it's not properly secured…wind will take it and just tip it right over. Kids will fall out and get hurt very seriously."
Stuckey further elaborates on how to avoid a bounce-house disaster with these tips:
A bounce house should be properly tethered by using stakes that are at least eighteen inches long. The stakes should be hammered all the way into the ground, at a 45 degree angle.
If the wind is stronger than 20 miles per hour, which is the speed of wind that generally can cause the tops of trees to start to sway, children should evacuate the bounce house immediately.
The ground that the house will be tethered into should be firm. If hammered into loose ground or sand, instability and injuries may occur.
The house should not be erected near any power lines or bodies of water, including pools.
If the bounce house your child will be playing in is on someone else's property, make certain to check for tears and rips in the material. Also check the straps where the anchor points are to make sure that they are in good condition.
Always read the rules printed on the side of each bounce house before using.
If the bounce house your child will be playing on has a slide, check to make certain that the ropes that are anchoring it to the ground are not old or ripped.
Stuckey also says, "It always has the height and weight limits and the limit of how many children can be in there. You don't want to go over the weight limit because if all the kids shift to one side at the same time, the house can fall over."
---
[ad]