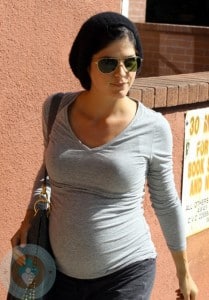 Selma Blair is taking a break from her career to focus on pregnancy and motherhood. This hasn't stopped the actress from making appearances and on Friday, she attended the premiere of Brooke Shield's play, Girl Talk, in Los Angeles.

Access Hollywood was able to grab the actress for a quick interview, and the main topic of the conversation was her pregnancy and how things are going so far:
"I'm having a great pregnancy.  It's due this summer. I'm not going to say what [the sex] is yet. Hopefully it's one or the other. Who knows these days!"
The actress also dished on her biggest pregnancy craving during the interview. She happens to love pancakes! She had this to say about those pregnancy cravings:
""I eat pancakes all day. I don't eat gluten, so I eat gluten-free pancakes. It's a little better, but not much! I have a lot of pancake cravings, a lot of grapefruit [cravings]."
Sounds like one very happy mother-to-be. This is her first child.
---
Related Articles:
{FAME}

---
[ad]