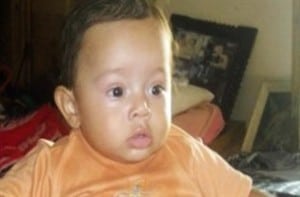 A seven-month-old boy is lucky to be alive after he was swept 200ft in the air by a Hurricane – and survived without a scratch.
When Hurricane Hermine, ripped through a north eastern Mexican neighborhood topping wind speeds of up to 115km/h it pulled seven-month-old Brandon Emiliano from his bed while he slept after it tore off the roof his family home.
The baby's mom was left to helplessly watch as the hurricane winds scooped up her baby boy and threw him into the night.
"He was taken by the sky. It was the middle of the night but I ran to look for him".
The odds of her son surviving such a freak accident were slim.
But to everyone's surprise, he was found just 50 meters from the family's home – unharmed.
Doctor's were amazed, after giving Brandon a full medical examination, that he suffered no injuries from his hurricane flight. They believe that a dumped mattress broke his fall.
Hurricane Hermine, has left two dead and thousands homeless, but one little boy managed to defy all odds and survive the destructive wrath of this powerful storm. – Jeff, Staff Writer
---
[ad]